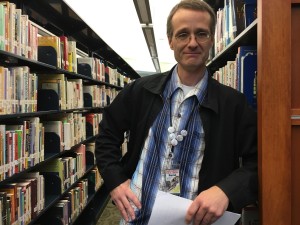 On November 15, 2023, Managing Librarian David Ege spoke at the annual meeting of the General Membership of the San Carlos Friends of the Library.  Ege reviewed the Branch's activities in 2023, and spoke briefly about what new programs can be expected in 2024.
   January and February 2023
We had two speakers which drew 11 patrons and 2 author talks that brought in 107 people.  Author Jennifer Coburn's presentation in February had 86 people in attendance.
Robotics Showcase: 10 teams in attendance.  5 – First Lego League (FLL) grades 4th to 7th, 4 – First Tech Challenge (FTC) grades 7th to 12th, and 1 – First Robotics Competition (FRC) grades 9th to 12th.  SDFD Bomb Squad robots were in attendance as well as drones from Aguirre Tech.  Special Guest, Councilmember Raul Campillo, presented Coach Toni Xavier with a Special Commendation for her service to the program and the community.  287 attendees.
Summer Reading Program: 1116 patrons enrolled, 768 completed.
8 SRP Shows at library with more than 700 participants.  Including magicians, storytellers, music, and animals.
Chess Tournament, hosted by volunteers, Peter, Luke, and Mila Cepurac, sponsored by Elks Lodge #168.  Prizes included chess books for all participants and chess sets for the winners. 47 attendees.
Youth Services Librarian, Erin Moore, partnered with the San Carlos Community Garden to put up a Story Stroll at the San Carlos Community Garden.  She is working with them to change to another story.
We Bought the Lot Celebration with Special Guests Congresswoman Sara Jacobs, Mayor Todd Gloria, and Councilmember Raul Campillo. 318 attendees.
Planning for Speaker and Author series to return in January 2024. 
We have Authors scheduled for January through March.  We are connecting with more authors and local groups to find a variety of quality programming.
 Saturday, January 13, we will be hosting the 50th Anniversary Celebration with family-friendly activities, pictures with Odi the Coyote, and special guest Councilmember Raul Campillo.
We thank David Ege and all of his staff for the hard work they do all year round for our San Carlos Community, and wish them all a healthy and  joyous Holiday Season.