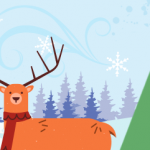 The SDPL's  January, 2022 Winter Reading Challenge (WRC) was  Read for a Better World. This annual program was for readers of all ages thtat encouraged readers  to explore diversity empathy, and action through literature.
This year, there were 7853 Participants and 6175 Finishers!  That is a 78% completion rate! CONGRATULATIONS!
Last year we had 6,827 participants and 4192 Finishers (61% completion rate) and our program ran for 2 months instead of the usual one month.