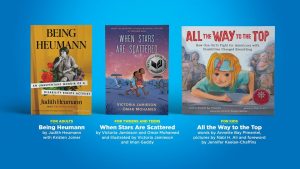 The wait is over! KPBS and their community partners are excited to announce the 2021, One Book, One San Diego selections.  The choices focus on disability civil rights, experiences and inclusion.
– "Being Heumann: An Unrepentant Memoir of a Disability Rights Activist" by Judith Heumann and Kristen Joiner (Adult reader category)
– "All the Way to the Top" by Annette Bay Pimentel and illustrated by Nabi Ali with foreword by Jennifer Keelan-Chaffins (Kids category)
– "When Stars Are Scattered" by Victoria Jamieson and Omar Mohamed and illustrated by Victoria Jamieson and Iman Geddy (teens and tweens category)
To learn more about these titles and upcoming #OneBookSD events, please visit OneBookSD. Come read with us!