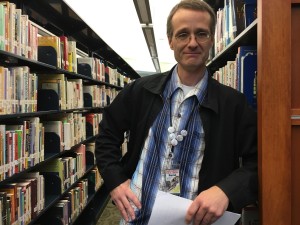 The year 2020 has been interesting for all of us. We all had to change and adapt our lifestyles to find a way to manage the new normal in our lives. We adjusted our SCBL service in order to still provide library materials to the community; and we are committed to be a continuous source of opportunity, discovery and inspiration.
In February, we held our Robotics Showcase Extravaganza 2020 which was a smashing success that attracted 270 attendees. The Patrick Henry Patribots, Wizalos, Squash, Dailard Mechanical Dolphins, Pretzel Cats and City Critters all came out to show off their creations. The Kearny High Blue Tech Club showed off a miniature underwater remote-operated vehicle (ROV) and the SDSU Mechatronics brought out their large underwater ROV. The appearance of SDPD SWAT robot units entertained the crowd and inspired the young robotics teams.
We had to think creatively about Free Comic Book Day 2020 and how to distribute comic books to our patrons. IDW Publishing graciously provided 5000 comic books to give away so we partnered with the City's Parks & Rec Department to deliver the books to San Diego school sites that were providing meals to school children. A box of comic books was also sent to the San Diego Convention Center to provide reading material for Operation Shelter to Home. We are so proud that during these times we were able to find ways to work together and still provide services to the citizens of San Diego.
During the COVID-19 pandemic, the SCBL has daily served 50- 100 patrons with Contactless Pickup Service.  SDPL branches have also offered outdoor Wi-Fi connections, virtual educational services and programs.  Check out the San Carlos Branch on FACEBOOK
Wishing all of you a healthy 2021.  David Ege, Branch Manager, San Carlos Branch Library, City of San Diego, San Diego Public Library, (619) 527-3430