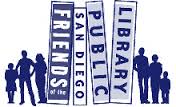 The time of year is rapidly approaching when the San Diego City Council and Mayor will be submitting their Budget proposals for the 2019-20 fiscal year, which begins July 1, 2019.
Last month, the Library Commission revealed that the San Diego Public Library system is facing a proposed 3% budget cut next fiscal year. Not wanting to cut programs, we may be see a decrease in the Libraries' hours of operation.
As an interested patron of the San Carlos Branch Library and the San Diego Public Library system, we encourage you to immediately write a letter or email your City Council member and Mayor, expressing your concerns about the affect the reduction in hours of operation and programs would have on our Community.
Below, you will find the contact information for the San Diego City Council members. The San Carlos Friends of the Library thank you in advance for your support of our Public Libraries.
DISTRICT 1
Barbara Bry, Council President ProTem:  [email protected]; 619-236-6611 Carmel Valley, La Jolla/Riford, North University Community, University Community
DISTRICT 2
Jen Campbell, Councilmember [email protected]; 619-236-6622 Clairemont, Ocean Beach, Pacific Beach/Taylor, Point Loma/Hervey
DISTRICT 3
Chris Ward, Councilmember [email protected]; 619-236-6633 Central Library, Mission Hills-Hillcrest, North Park, University Heights
DISTRICT 4
Monica Montgomery,Councilmember [email protected]; 619-236-6644 Mountain View/Beckwourth, Oak Park, Paradise Hills, Skyline Hills, Valencia Park /Malcolm X
DISTRICT 5
Mark Kersey, Councilmember [email protected]; (619) 236-6655 Carmel Mountain, Rancho Bernardo, Scripps Miramar Ranch, Rancho Peñasquitos
DISTRICT 6
Chris Cate, Councilmember [email protected]; 619-236-6616 Balboa, Mira Mesa, North Clairemont
DISTRICT 7
Scott Sherman, Councilmember [email protected]; 619-236-6677 Allied Gardens/Benjamin, Linda Vista, Mission Valley, San Carlos, Serra Mesa/Kearny Mesa, Tierrasanta
DISTRICT 8
Vivian Moreno, Councilmember [email protected]; 619-236-6688 Logan Heights , Otay Mesa , San Ysidro
DISTRICT 9
Georgette Gómez, Council President [email protected]; 619-236-6699 City Heights/Weingart, College Rolando, Kensington/Normal Heights