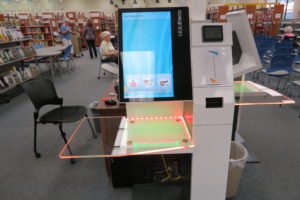 Temporary branch closure:
 T

he

branch will be

CLOSED

between

Monday, June 12

and

Friday, June 23 

for the completion of the installation of the new radio frequency identification (RFID) system at the San Carlos Branch Library.



The branch will REOPEN on Saturday, June 24.
During the closure:
There will be NO programs or patron use of library materials at the San Carlos Branch between June 12-23.
You may continue to return your materials to our branch using the outside drop slots and boxes.
Items you have placed on HOLD before June 23 will be extended for 2 weeks after reopening (until July 8).
Please place Used Book Sale donations in marked bags or boxes and place them on the provided cart or bench by the left-side library entrance.
Used-Book-Sale sorting will continue.
Program notes:
There will be a June and July USED BOOK SALE.


There will be no artist show or author talks in June. 

 

All regularly scheduled programs and library activities will resume on Saturday, June 24.

The weekly Wednesday @ 2:30, Children's Summer Reading Program Special Events will begin on June 28.

Summer Reading Program sign-ups may be done between June 15-August 14, on-line at https://www.sandiego.gov/public-library.
Good to know:
During the closure, all materials will be converted from bar-code to RFID tags by our staff.

The RFID tags will allow patrons to use the user-friendly self-Check machines to check out materials (in 27 languages), and (COMING SOON) to pay library fines.

Unlike bar-codes, RFID does not require a specific position to read the tags.

The RFID system is secure and efficiently tracks all library materials.

The system helps to free up Library staff to assist patrons in choosing or checking out materials as needed.

The City-wide 36 Branch upgrade was paid for with a $1.16 million state grant and a FSDPL/Library Foundation $467,000 donation. All branch upgrades should be completed by August, 2017.
Want to know more? Click on System Technology Upgrade.