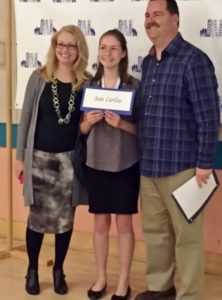 City-wide winners of the 20th Annual "Writing for Literacy Essay Contest" were announced April 27, at the Balboa Park Club. Pershing Middle School student, Caroline Beail was one of the four City-wide 8th grade winners. Beail chose To Kill a Mockingbird, as the one book she would save if all other books in the world were to be destroyed. In 2013, as a fourth grader at Dailard Elementary, Beail was also a City-wide winner in that division. She appears here with her proud parents, Linda Beail and Eric Schlumpf. Congratulations to all of the participants, their families and teachers.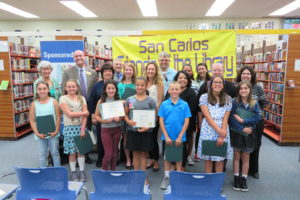 Parents, teachers, and friends, joined us at the San Carlos Branch Library, April 19, at 6 p.m. to hear the essays of and to congratulate all our local winners. They are: Fourth grade winners from Benchley Weinberger Elementary (and their teachers) are Lorelei Garrison (Kim Filner), Grace Michener (Kathy Aufsesser), and Mathew Neboshynsky (Erica Ruiz-Gutierrez); Dailard Elementary winners are Willow Carter and Courtney Klahn (Erin Keegan) and  Maleah Castillo (Gretchen Sites); Green Elementary's winners are Jocelyn Hammerstrand  and Ariana Rodriquez (Susan Barrett), and Jadzia Murphy (Louise Volpe). Eighth grade winners from Pershing Middle School are Caroline Beail (Brad Endicott) and Abigail Hayes (Chastain Foulk).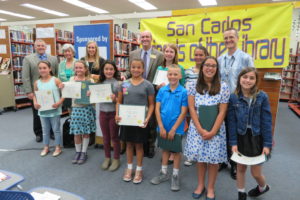 Each participant received a pen and certificate from Friends of the San Diego Public Library. Our local winners will also receive a Certificate from City Councilman Scott Sherman and a Barnes and Noble gift card.
Special guests at our local awards ceremony were Michael Winer, son of Jack Winer;  Casandra Weinlein representing Scott Sherman; Kevin Beiser, School Board Representative; Ann McDonald, past SCFOL & FSDPL President and Library Foundation Member; and Judy  McCarty, past SCFOL President. A special cake to commemorate the contest's 20th anniversary and other refreshments followed the award ceremony.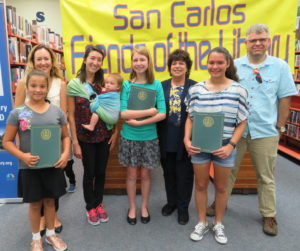 The essays of Wilow Carter, Caroline Beail and Abigail Hayes were chosen to represent San Carlos in the City-wide finals.  Participants had to choose one of the following topics for their essay: San Diego Zoo's 100th Anniversary, the 2016 One-Book-One-San Diego book  "Waiting for Snow in Havana" by Carlos Eire, or answer the question, "Which book would you save and why, if all the other books in the world should disappear?"
Five of our local schools submitted 181 essays which were evaluated by our wonderful judges, Cathy Todd, Charlotte Adams, Maggi McKerrow, Lee Ottman, Sarah Hendy-Jackson, and Chair Joan Hayes.  We thank them for their hours of reading and the tough decisions they had to make to choose our local winners. Kudos also goes to the Contest's corporate sponsors: FSDPL, San Diego Public Library, KPBS-One-Book-One San Diego, San Diego Unified School District, and Computers 2SDKids.  The contest was started by past SCFOL and FSDPL President Jack Winer who also envisioned a new, larger San Carlos Branch Library.  His son, Michael Winer, a SCFOL Building Committee member, is continuing his father's quest. The Winer Family annually contributes $500 for the contest, in memory of Jack and Carolyn Winer.