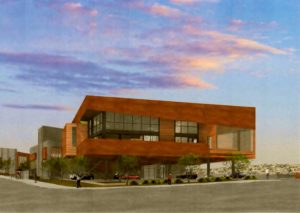 FEBRUARY, 2017: The discussion at the Building Committee meeting this month centered on fund raising for the new library. We are anxiously awaiting the written reports on the status of the corner lot. A major fund raising campaign cannot begin until the EPA has given an all clear report to purchase the lot.
JANUARY, 2017: T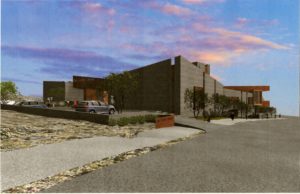 he NEW San Carlos Branch Library's design  was presented to the Community by David Pfeifer, AIA, from Domusstudio Architecture, at the Navajo Community Planners' meeting held at the Tifereth Israel Synagogue  on Wednesday, January 11 at 6:30 p.m.  We thank all of those who attended.

The information given in that meeting is available below.  It was also well covered by Doug Curlee in his front page article in the January 20 edition of the Mission Times Courier.  We thank Doug for his excellent article.  If you have any questions concerning the new branch library, please contact the SCFOL New Branch Library Committee Chair, Judy Williams.  You may leave a note for her at the library or email her at [email protected] .
Read the building's general layout description in the November, 2016 report.