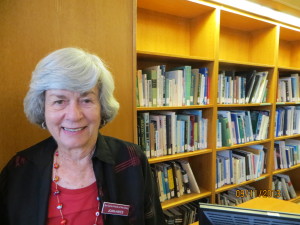 Congratulations to the new SCFOL Officers and Board Members for 2016.  On November 18, at the San Carlos Friends of the Library's Annual General Membership Meeting held in the Winer Family Community Room & Art Gallery,the following SCFOL members were elected to serve on the SCFOL Board for 2016.
President: Joan Hayes (pictured)
Treasurer: Jerry Hotz
Secretary: Evie McGhee
Members-At-Large are: Margrette Carr, Bobbi Dennis, Sue Hotz, Roberta Irwin, and Ron McFee
Joan Hayes has been serving on the Board as a Member-At-Large, Amazon Book Sale organizer and SCFOL Historian since 2011, and did a fantastic job organizing the Branch's 40th Anniversary GALA.  She would love to have someone step up and take over the Amazon and Historian duties.
Jerry Hotz has served as the SCFOL Treasurer since December 2005, and Evie McGhee as SCFOL Secretary keeping minutes and writing letters since 2001.  Margrette Carr also assists SCFOL in Member recruitment, Bobbi Dennis keeps the Membership records, Sue Hotz maintains the SCFOL website and publicizes library activities via a monthly MTC column.  New to the Board as Members-At-Large are Roberta Irwin who has been an avid Book Sale sorter and volunteer for years, and is now been keeping the monthly Book Sale statistics and book sale volunteers organized. Ron McFee, another avid Book Sale Volunteer, is the overall Book Sale Manager while Jim Shields continues to support the library as the Book Sale Manager Emeritus. Judy Williams will continue to serve  on the SCFOL Board as Immediate Past President.  She is now serving as the Chair of the Committee working to fulfill Jack Winer's dream of a new, 25,000 square foot San Carlos Branch Library. Also assisting SCFOL as needed and serving on the new library committee are past SCFOL Presidents Judy McCarty and Ann McDonald.
Also at the meeting, the names of our new SCFOL Life Members were added to the Honor Wall located in the Community Room. For 2014, they are Andrea Grillot,  Yvonne Nelson, and Mark Peterson; for 2015, Carolyn Barkow, Sandra Gillins, Christine E. Khouri, Ron McFee, Evelyn McGhee,  Aletha (Lee) Ottman, and Mickey Zeichick. We welcome them and thank them for their membership and loyalty to the San Carlos Branch Library. We encourage everyone to join SCFOL and would love to place YOUR name up on the Honor Wall next year as a Life Member.
Community members are always welcome to attend the SCFOL Board Meetings that are held in the Community Room on the 3rd Wednesday of the month from 4:00-5:30 pm. If you have been thinking about joining SCFOL or becoming a volunteer, this is a good way to find out what we're all about before making a commitment. We look forward to meeting you and hope you will become an active participant in SCFOL and the Branch's activities. It will require the support and participation of our entire Community to accomplish the building of our new Branch Library.