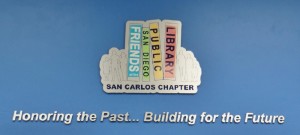 November 18, from 4:00-5:30, in the Winer family Community Room & Art Gallery, all Members of the San Carlos Friends of the Library are invited to attend the SCFOL Annual General Membership Meeting. The agenda will include Bob Cronk, the San Diego Public Library's Deputy Director of Public Services speaking on, "The Exciting Future of Public Libraries." Our institutions will need to evolve to keep pace with the needs of our changing culture. Bob will share ideas about the future role libraries will play in communities and how the San Diego Public Library system is working to meet each community's needs.
The agenda will also include the introduction of this year's new SCFOL Life Members whose names will be added to the SCFOL Honor Wall.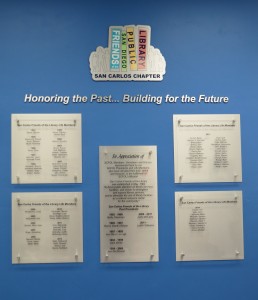 They are:  Carolyn Barkow,  Sandra Gillins, Andrea Grillot, Christine E.Khouri, Ron McFee,  Evelyn McGhee, Yvonne A. Nelson, Aletha (Lee) Ottman,and Mark Peterson, and Mickey Zeichick.
Also on the agenda will be the election of the 2016-SCFOL Officers and five Members-at-Large Board Members. Hoping for your votes are:
President: Joan Hayes
Treasurer: Jerry Hotz
Secretary: Evie McGhee
Members-At-Large: Margrette Carr, Bobbi Dennis, Sue Hotz, Roberta Irwin, and Ron McFee
Refreshments will be served, and we hope to see all of you there.