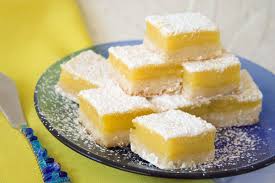 Just in time for your summer picnics. While Orlie Baird and Jim Shields were busy organizing the monthly Used Book Sales, Gay brought home-made lemon bars for the volunteers. As she promised at this year's Volunteer Appreciation Pizza Party where Judy McCarty presented her with a plaque honoring her husband,  she has graciously shared her delicious recipe with us.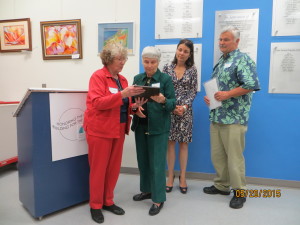 Thanks, Gay, for sharing. You have assured your position in the history of SCFOL volunteers.
CRUST
½ c butter
¼ c confectioners' sugar
1c flour
Cream butter, sugar and flour and spread into an ungreased 9X9 pan. Bake @ 350 for 10 minutes. Remove from oven and pour on the topping (below).
TOPPING
1 c granulated sugar
2 extra large eggs
¼ tsp salt
3 T fresh lemon juice
½ tsp baking powder
2 T flour
Mix topping thoroughly. Spread over baked crust and bake again at 350 for about 30 minutes or until slightly browned. Remove from oven and gently run spatula around edges. Cool completely and then dust with confectioners' sugar.
For a big crowd, Gay doubles the entire recipe and uses a 9X13 pan, and bakes the crust for 15 minutes. Although doubled, she says that the topping will take about the same time as above, 30 minutes.