The San Carl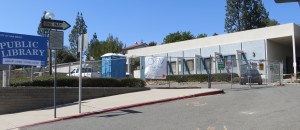 os Branch Library has REOPENED at its regularly scheduled hours of operations.  Please note that there will be NO USED BOOK SALE.  Parking is extremely limited.  Only the right hand side of the upper lot is open for parking.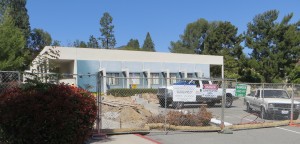 Please keep in mind that the  upgrades are not complete and construction will continue for another month or two.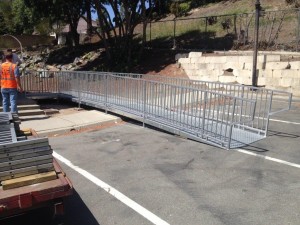 ONLY THE NORTH/EAST/BACK library entrance is open at this time.  A ramp has been installed for handicap access. Handicap parking is now located next to this entrance. Overflow parking should use the lower corner lot.  Pictured here is the ramp and the entrance that should be used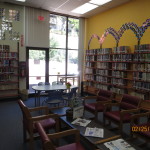 by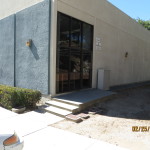 everyone.  Port-a-potties and a hand washing station are available for both staff and library patrons near this entrance.  There are no in-door restrooms. There are no drinking fountains. Hand sanitizer is available at the front desk.  SCFOL has water bottles available for you in the Community Room.  ASK if you cannot find them or if the room is in use.
The south/east entrance and after hours return book drop will NOT be open until the handrails are replaced at the south/east entrance.  ONLY THE NORTH/EAST/BACK entrance is open.  Use the ramp or steps at that location.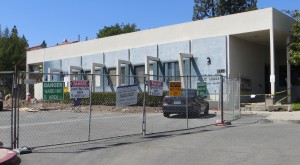 PLEASE, PLEASE, PLEASE, do not attempt to enter the fenced-in or roped off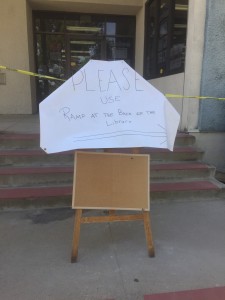 hard hat areas. Books may be returned to other branch libraries or inside the San Carlos Branch during regular hours of operation.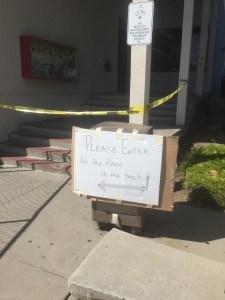 The west entrance will remain closed while the work is completed.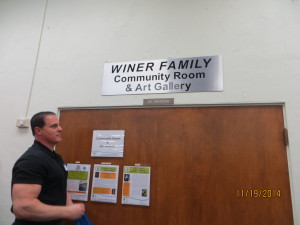 Also, note that the back entrance to the Winer Family Community Room and Art Gallery will be closed during construction.  Please enter the Community Room through the doors located in the Children's' section of the library.  Thank you for your patience, and we look forward to seeing all of you back at our updated library.
Please download the library's April and May calendars found under Calendar on this website.  Regularly scheduled programs have resumed at their previously scheduled days and times.
Please note these special April/May activities brought to you by SCFOL:
April 16 @ 10:30: "Self Defense" Mario Mayorga
CANCELED: April 16 @ 1:00: OASIS: "Recording Your Life's Journey" Kira Anthofer
CANCELED: April 17 @ 1:00: OASIS: "In Defense of the Book" Mark Carlson
April 18 @ 12:00-2:00: Artist Reception for Pam Nolan & Teresa Rutledge.  Their art is on exhibit in the Winer Family Community Room and Art Gallery from April 7 – 30.
April 24 @ 2:00: Author Raymond Wong, "I'm Not Chinese…"
May 2, ALL DAY: Pick up your FREE Comic Book while supply lasts.  NO Used Book Sale.
May 5 @ 10:30:  Self Defense Class with Mario
May 8 @ 2:00: "Healthy Habits for a Healthier You: Maximizing Your Brain Health." presented by the Alzheimers Association.
May 14 @ 12:30: AT THE LIBRARY: the Book Club is reading "Wives of Los Alamos." by TaraShea Nesbit.
May 20 @ 6:00: Volunteer Appreciation Night.
May Art Show in the Art Gallery from May 5-June 4, with a special A Show In Living Color and flower demonstration on May 22-23.  Details can be found under Art Shows.
May 29 @ 1:00: OASIS  (we hope)
Again, we thank all of our patrons for your patience during the ADA (American Disabilities Act) renovation, and welcome you and our staff back to the San Carlos branch. Also, a big thank you to the Benjamin and College branches for taking such good care of our patrons and for taking on the extra work load. Mail delivery is back, so feel free to mail in your SCFOL membership renewals or join in the fun by being a library volunteer!