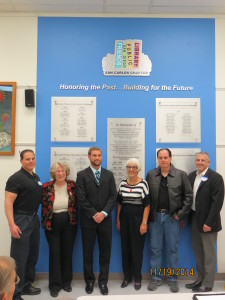 In the Winer Family Community Room & Art Gallery of the San Carlos Branch Library,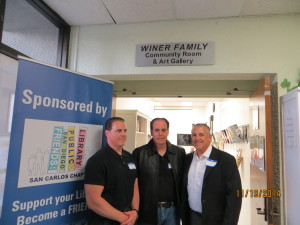 on November 19, 2014, at the SCFOL General Membership Annual Meeting, there was the unveiling of a special section of wall, honoring all SCFOL Life Members and Past Presidents. Present were SCFOL members, honored Life Members Rocky, Gene & Michael Winer (sons of Jack & Carolyn Winer), Past President Judy McCarty, SCFOL President Judy Williams, and Riley Webb representing Councilman Scott Sherman.
Please stop by and see the Branch's updated east entrance and Community Room.  We have fresh paint, chairs, tables, and book shelves and carts on which you can place your donated used books for our book sales.  The blue honor wall is striking.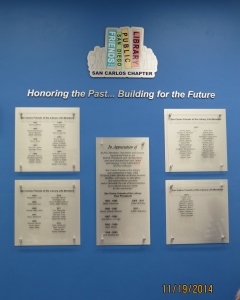 Plaques contain the names of every SCFOL Life Member since its inception in May, 1982, and of all of the SCFOL Past Presidents.  The Life Member plaques will be updated annually, so you too, can have your name listed in the future, by becoming a SCFOL Life Member for on $250.  These plaques were designed so that they can be moved to the new library upon its completion.  Our Art Coordinator, Barbara Stewart has artists lined up into 2016, so come on by and enjoy the art in beautiful new surroundings.  More to come.
Also at the annual meeting, members approved a few minor revisions to our by-laws written to streamline operations.  The SCFOL Board Members for 2015 were also approved.  They are: President-Judy Williams, Secretary-Evie McGhee, Treasurer-Jerry Hotz, and At-Large Board Members-Bobbi Dennis, Sue Hotz, Jim Shields, Joan Hayes, and Margrette Carr.  Contact Judy Williams—there are many opportunities for you to volunteer as committee chairpersons or members as we BUILD FOR THE FUTURE.