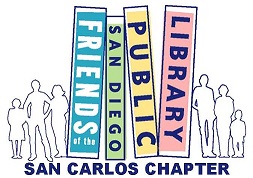 From 1:00 – 3:00 p.m. on the day before  the SCFOL First Saturday of the month Used Book Sales,  current members of the Friends of the Library will be able to purchase fiction books and media materials in the Winer Family Community Room & Art Gallery of the  San Carlos Branch Library.  You may join SCFOL at the book Sale.  Some hardbacks sell for only $1.00.  This is our way of thanking Friends Members for their support of the San Carlos Branch Library.
There's lots more elbow room to shop and a chance to visit with other members. YOU MUST BRING an I.D. and hopefully your Membership Card. We will have an updated SCFOL membership list on hand but having your card with you will save time.
Membership envelopes will be available at the Friday pre-sales and monthly used book sales; new members may join on the spot or at anytime. Remember, annual Memberships expired on December 31. New members who joined after October 1st, have had their memberships extended through December 31st of 2022.  New Life Members (a deal at only $250 per person) who were processed BEFORE NOVEMBER 1st, 2022 can now see their names have been added to the LIFE MEMBER plaque on display in the Winer Family Community Room & Art Gallery.