We sincerely hope you are safe and healthy and that you've been able to engage with the world in whatever way you've been comfortable (and hopefully on your terms). Here at the Library Shop, as a non-essential business supporting what we consider an essential institution–The San Diego Public Library–we've had the privilege of being able to continue working from home. And, thanks to being a part of a great organization–The San Diego Public Library Foundation–the Library Shop has kept our staff intact. Not everyone in the service industry has been so lucky and we also want to acknowledge all the folks that don't have the option to work from home; whether you're a health care worker or a grocery clerk. We appreciate you and hope you find something in our upcoming activities to distract you for a while, whether it be some socially distanced face-to-face interaction at our continuing Curbside Caravan tour of the branches or at one of our upcoming Virtual Literary events as we launch our new Crowdcast Channel! Though we continue to be closed for brick and mortar business, our website has all the same literary goodies you love (and some new arrivals.) And we're still offering free, local delivery* and $4.95 flat-rate shipping on all orders.  Library Shop *We're able to deliver to any address within 25 miles of the Central Library
Community Events You Won't Want to Miss: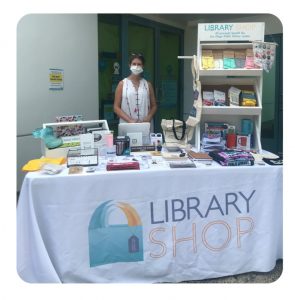 Curbside Caravan Summer Tour Continues Every Friday Through September!
The Library Shop's famous Pop-Up Shop is coming curbside to a library branch near you. Every Friday in September from noon to 4 pm, the Library Shop will be at a different branch for a socially distant, touch-free, curbside shopping experience.   Library Shop, Curbside Caravans:  12 noon – 4 p.m. 
September 11: Pacific Beach/Taylor
September 18: Valencia Park/Malcolm X
September 25: Rancho Peñasquitos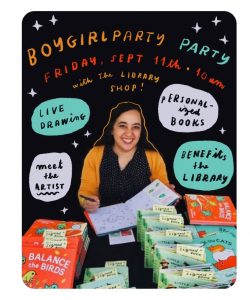 Boygirlparty Party with Susie Ghahremani
& San Diego Design Week
Friday, September 11, 10 am
Join us virtually for a free event on the Library Shop's new Crowdcast Channel, an exclusive behind-the-scenes look at the design studio of boygirlparty's sole proprietress, award-winning illustrator, author, and great friend of the Shop, Susie Ghahremani. As part of San Diego Design Week, Susie will walk us through her design process, answer your questions, and virtually sign any book you purchase at the event or in advance. Plus, the Library Shop will deliver the signed and personalized book to your doorstep for free!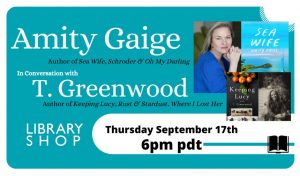 Authors Amity Gaige &
T. Greenwood In Conversation
Thursday, September 17, 6 pm
Join us virtually on the Library Shop's Crowdcast Channel for a conversation between two critically acclaimed literary novelists, Amity Gaige (Schroder,O My Darling) and T. Greenwood (Keeping Lucy, Two Rivers, Rust & Stardust) as they discuss Amity's latest work, Sea Wife (which Lauren Groff called 'a smart, swift, and thrilling novel') and the writing life. They'll also take your questions and if you purchase a book we'll deliver it directly to your door! This event is free and open to the public.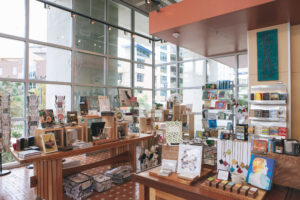 The Library Shop is a non-profit book & gift store located in the courtyard of the Downtown Central Library sponsored by the FSDPL and the SDP Library  Foundation. 
As the plans for Downtown Central Library were being developed, space was set aside for a Library Gift/Book Shop to be located on site. It features a wide selection of well-curated books, gifts, cards, jewelry, and more. Proceeds support all 36 San Diego Public Libraries.  Life-members of the Friends of the Library receive 10% off all purchases. The Library Shop also sponsors monthly special events for youth and adults. To find out more about the Library Shop, their hours of operation, monthly special events, speakers, books and materials, go to  Library Shop  or call the Library Shop at 619-236-5802.