Librarian Assistant Megan Reed leaves SCBL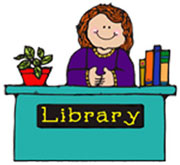 Last month, SCBL said good-bye to our much loved Library Assistant Megan Reed.  Megan worked at the San Carlos Branch Library for about eleven years, assisting patrons and staff alike.  Megan was the talented creator of all of those fliers you see every day at the library promoting coming attractions and "what's happing" that day. For six years, kids ages 3-8, had loads of fun and learned a love of creating works of art at Reed's Thursday after-school Process-Focused-Art classes.
We will still see Megan each month assisting Art Chairperson Barbara Stewart in setting up the art exhibits in the Winer Family Community Room & Art Gallery. Megan creates her own art in many practical ways too using sewing skills first learned from her mom.  In September, Megan will be showing off her quilts while sharing the SCBL Art Gallery with paintings by Barbara Stewart. If you didn't have a chance to say good-bye to Megan, their Artist Reception will be held September 16, noon- 2 pm.  They would love to see you there.  We wish Megan the best in all of her future endeavors.