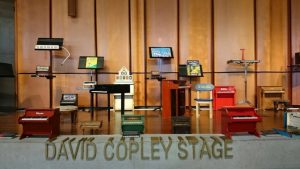 The San Diego Central Library @ Joan ? Irwin Jacobs Common is excited to announce the SCHEDULE for the Winter/Spring 2023 Concert Series.
Now in its 67th season, the Concert Series will commence 2023 with a Central Library debut performance by Logan Chopyk from the San Diego Symphony on trombone, with acclaimed pianist Tina Chong. The Series will also feature recitals by local and visiting artists from throughout Southern California, the Midwest, and Texas, and will conclude with San Diego Baroque, a virtuosic early music ensemble made up of accomplished local musicians.
Central Library Concert Series programs are FREE and open to the public with first come, first served seating.
Please note: Dates and times vary this season, please check concert details carefully. You will find additional information about these concerts on our Events Calendar.