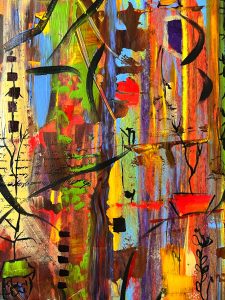 October 4-30, we are excited to have the works of Noreen Ring brighten up the Winer Family Community Room & Art Gallery of the San Carlos Branch Library.  Last year, Noreen showed her beautiful hand made wall quilts created from her own designs.  This year, her show will highlight  brightly colored and intricate drawings she calls personal places. Her Artist Reception will be held on October 28, noon-2 pm, in the SCBL Art Gallery.  Click on October Artist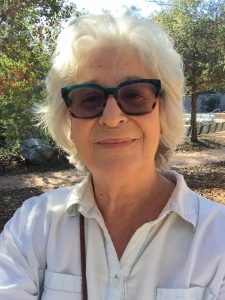 Noreen tells us, "My interest in repetitive patterning has evolved over the past three years. There is a sense of quiet calm in allowing the interaction of patterns to evolve, watching as one proceeds on a blank page and seeing how certain patterns work with others. After decades of doodling, my imagination of possibilities took a turn during the lock-down of the COVID pandemic where I began adding simple drawings to some of the spaces between patterns and this evolved into a style that I call 'Personal Spaces'.  Drawing things familiar to me using a variety of markers, pens, colored pencils, watercolor and acrylic and enhancing with shading and other techniques has led to the exploration of my own voice.
"In teaching this art form at Dorland Mountain Arts and private group events, I've discovered how unique each individual student expresses themselves and is able to explore those things uniquely personal through this doodling technique."
Noreen Ring is a well known San Diego County artist.  Her affiliations include: Board Member – Dorland Mountain Arts, Associate Artists Program Director – Dorland Mountain Arts, and Art Committee Member – Fallbrook Library. See more of her unique designs by clicking on House on a Hill Designs or contact her by email at [email protected].