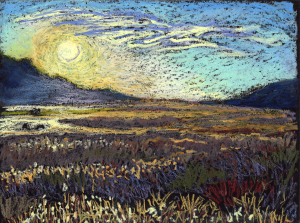 May 3- June 5, we are delighted to show the plein-air oil pastels of Joanna Collier in the San Carlos Branch Library's Winer Family Community Room & Art Gallery. Her Artist Reception is planned for Saturday, May 20, noon – 2 p.m. in the art gallery.
Joanna Collier is an artist living in San Diego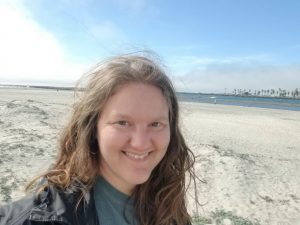 and working throughout southern California. She has enjoyed a lifelong study of art since childhood, pursuing a minor in fine art in college and taking various classes since. Her career in archaeology has given her the opportunity to spend time in the most beautiful deserts, mountains and beaches in the West.
Joanna's artwork explores the interaction of light and landscape to capture fleeting moments in special places. Although she uses a variety of media to draw and paint, she finds the most joy in creating plein-air landscapes using oil pastels. Her landscape studies are done quickly in a single session to create a more intimate connection between the viewer and the subject. Working on black paper showcases the luminosity, warmth and depth of color that oil pastels can convey.