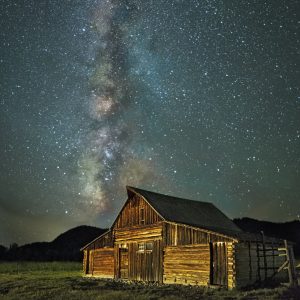 What a way to start 2023! Eileen Mandell's photographs  will be on display in the SCBL Winer Family Community Room & Art Gallery January 4-30. Mandell is an award-winning photographer, retired photo arts educator, and a night owl. Combine that with her love of the night sky, and her love for capturing detail and movement in her photographs, and you have the perfect recipe for a nightscape photographer. Meet Eileen at her Artist Reception  Saturday, January 21,noon- 2 p.m.  January Artist
Eileen tells us, "With a background in art, I tend to look for shapes, lines, and patterns. Stars, constellations, and the amazing detail of the Milky Way provide me with numerous artistic, photographic opportunities."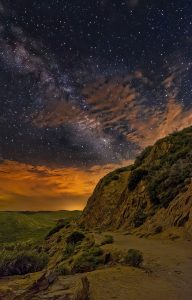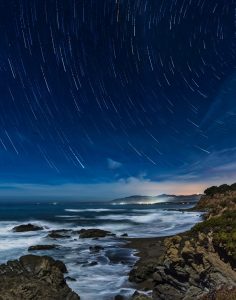 As far back as she can remember, Eileen Mandell has been enamored with Photography. Her fascination with the night sky began at a very young age, when her family spent summers near Bear Mountain in New York state.  Her parents would let her out of the car at the top of the hill above their summer home. When the lights were off, she would just stand and stare at the amazing display of stars.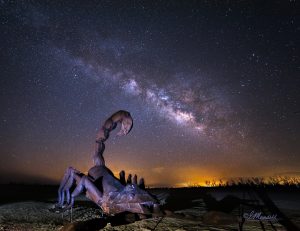 Eileen was lucky enough to have her dream job for 30 years- teaching high school photography and developing the Digital Arts high school program in San Diego East County, and at night, focusing on her personal passion of photographing the night sky.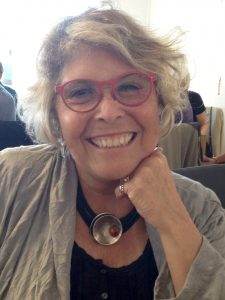 Though retired from the classroom, Eileen hasn't stopped teaching. She teaches photography workshops at Rancho La Bellota horse/guest ranch in Baja's Valle Guadalupe, which was featured in two PBS episodes of "Crossing South" – one just on the ranch and the second focusing on the Baja Rancho Art creative art & photography workshops at the ranch.
Eileen explained,  "Through all my years of travel, the constants have been my love of art, photography, and the night sky. With 21st century improvements in cameras I can now capture the stars, the planets, and the Milky Way in the night sky, composing images that bring all my passions together."