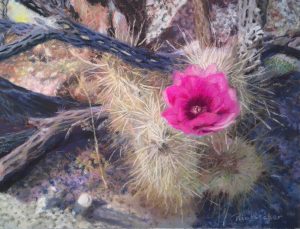 The pastels of award winning artist Julianne Ricksecker will be on display in the Winer Family Community Room & Art Gallery of the San Carlos Branch Library February 1-27.  Her Artist Reception will be held in the Art Gallery on February 18, noon- 2 p.m. Take time out from your busy schedule to meet Julianne and view her beautiful life-like paintings. February Artist
Ricksecker has been a painter and a printmaker exhibiting regularly for over 40 years. While she is best known for her work in various techniques of original printmaking, she also works in pastel and watercolor.  Her pastels have been exhibited in several international venues, including "Spirit of Pastels" with the Pastel Artists of Oregon, and "Make Your Mark! 2022" with the Pastel Society of Southern California.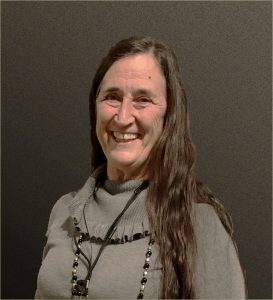 Ricksecker's primary inspiration is  landscape. Her meanderings to seek inspiration from the land have taken her to national parks such as Zion, Yosemite, and Glacier. She has depictedCalifornia scenes of Big Sur, the Cuyamacas, Torrey Pines, and the Anza Borrego Desert. Her medium changes depending on the particular inspiration and her work ranges in size from miniature prints at 2" x 2" to full sheet watercolor at 22" x 30". While she occasionally paints "en plein air", she is more likely to bring home inspiration in the form of sketches and photographs taken on hikes and during road trips. At home in the studio, she uses these reference images to create her works of art.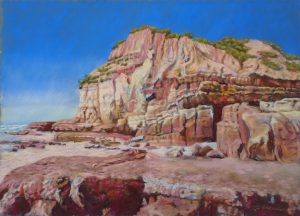 Born and raised in Pittsburgh, Pennsylvania, Ms Ricksecker  lived in Albuquerque, New Mexico, Newport, Rhode I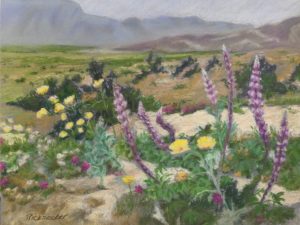 sland, Rouen, France and Yokosuka, Japan before settling in San Diego. She has exhibited in local, national and international exhibitions. She has won numerous awards for her etchings and her pastels, including 2nd place award at the 8th Biennial International Miniature Print Exhibition at the Center for Contemporary Printmaking in Norwalk Connecticut and The René Carcan International Prize for Printmaking Public Prize Award, Brussels, Belgium, in 2018.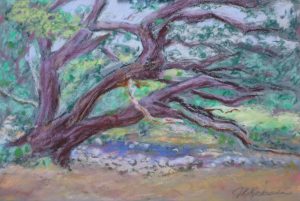 Ms Ricksecker's interest in art started in childhood, and remained constant throughout her life.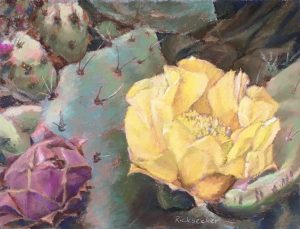 While she has maintained an active exhibition schedule since first showing with a group at the San Diego Academy of Fine Arts in 1978, she had a parallel career in Training and Development, facilitating a variety of topics at Rescue industries, at the San Diego Union Tribune and at Petco. After retiring from corporate training, she has enjoyed more time to make art and pursue interests in duplicate bridge and gardening.
Of her work, she says: "Inspired and delighted by the beauty of nature, I seek to express the awe and wonder I feel through a variety of media on paper.   I find it to be spiritually and emotionally vital to spend time experiencing and contemplating our natural world.  I hope to evoke in the viewer the pleasure, peace and the joy I feel when in the presence of nature and to inspire a desire to protect and preserve our precious wild spaces."