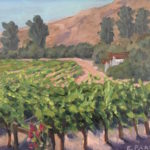 I can't wait to see more of Ellen Parry's beautiful oils depicting the landscapes of Northern Baja California. Her paintings will be on exhibit in the Winer Family Community Room & Art Gallery of the San Carlos Branch Library, December 6 – January 2.  Her Artist Reception will be held on Saturday, December 16, noon-2:00 p.m.  Click on December Artist
Ellen Parry enjoys landscape painting, whether done en plein air – on site – or in the studio.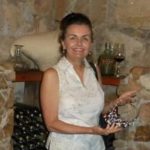 The back country and ranch lands of northern Baja California provide her inspiration; the region offers many unspoiled views reminiscent of Southern California in the 1920's and 30's.  This is a very different setting than the typical "beach and bar" scene – the "manufactured Mexico" found in the tourist traps.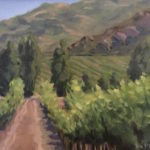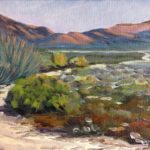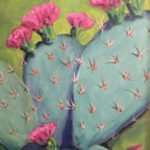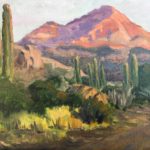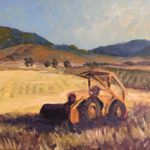 Just as artists from the East Coast and Europe were drawn to the West for the open spaces, varied terrain, and sun-drenched atmosphere, artists who visit Baja California find vast and unique terrain, stunning color, and views unspoiled by urban development.   Baja offers a window to the natural landscape of California – as it was when Edgar Payne, Edward Weston, Alfred Mitchell and William Wendt first traveled west to find their muse.  In Baja we can still find the undeveloped California of our past.
After working in the private sector as a Graphic Designer, Ellen changed careers to work as a Visual Arts teacher in the Grossmont Union High School District.  She draws from skills acquired in both fields to create her oil paintings that celebrate the peace and beauty found in the rural farming and ranching regions of Northern Baja California.