August 20: 6th Annual Festival of Books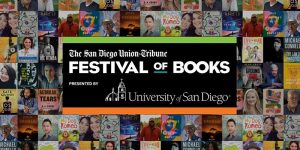 On August 20, the San Diego Festival of Books returns to in-person for the first time since 2019! The Library Shop and your San Diego Public Library will be there with booths and a full slate of authors. Capacity is limited so REGISTER today!
The Festival of Books, hosted on the University of San Diego campus, is a free event for book lovers of all ages. Enjoy workshops, activities, photo booths, live entertainment, discussions with award-winning authors and more!  Celebrate San Diego's vibrant reading community and join thousands of local readers, writers and word lovers at The San Diego Union-Tribune Festival of Books.  The Festival of Books connects San Diego area readers, booksellers, authors and businesses around their common love of the written word.