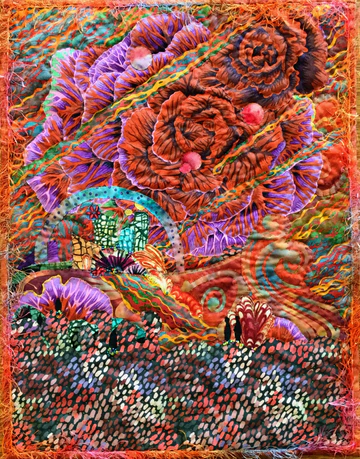 Noreen Ring will be showing her small, intricate and colorful quilts in the Winer Family Community Room & Art Gallery, October 6-31.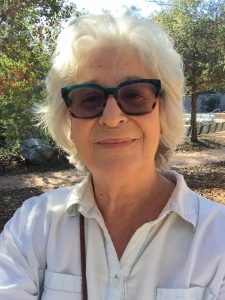 These beautiful small quilts are of her own design, and would make a wonderful wall hanging addition to any home.  Take time to view their intricate detail. You will have the opportunity to meet Noreen at her Artist Reception, Saturday, October 15, noon-2 p.m. in our Art Gallery. October Artist
Noreen gives the following description of her work: "It is my intention to design works that reflect an "other-world" feeling with a sense of universality.  Earth, mountains, rocks, flowers, the sky, the stars, moons – things that we know exist with certainty but aren't sure of the details and how they might fit together somewhere else.  When I design it is important for me to consider how comfortable existence would be in these worlds.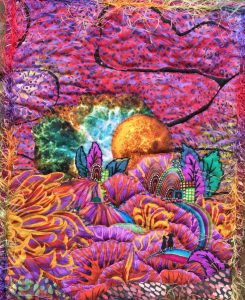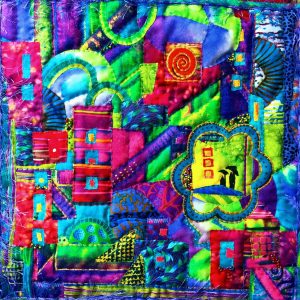 "The process of creating my art quilts is intuitive. I start with one piece of fabric that I am drawn to for its color and movement and then I slowly build a world. This is done by collaging small pieces of 100% commercially dyed cotton fabric that are cut to fit the composition. Once I am happy with the design, each piece of the whole is hand stitched (raw edge) into a quilt sandwich using embroidery and metallic threads. The art is then embellished with beads, crystals and yarn. They are sprayed with a UV protectant and finally framed behind glass or plexi."
See more of Noreen's designs on her website, www.noreenring.com. This year, Noreen was invited to write about her designs for the Autumn, 2022 edition of ART QUILTING STUDIO magazine. Her art affiliations include: Board Member – Dorland Mountain Arts, Associate Artists Program Director – Dorland Mountain Arts, and Art Committee Member – Fallbrook Library.