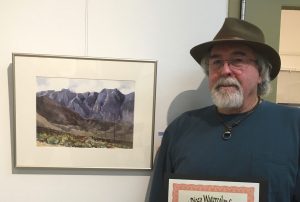 Mike Hefner's beautiful paintings will be on display from May 4-27, in the Winer Family Community Room and Art Gallery.  His last show at the San Carlos Branch Library was in 2016, and he has many new works to share with our patrons. Hefner will be available to discuss your favorites with him at his Artist Reception on May 21, from noon-2 p.m.
As a native San Diegan, Mike Hefner has a life-long passion for its numerous points of interest, capturing many of them in watercolor, acrylic or oils. His paintings hang in many local galleries and have earned awards in all three media.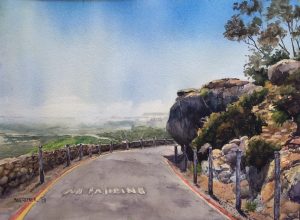 Mike tells us that plein air is his favorite form of painting and he takes great pleasure and pride in interpreting his view while capturing the feel of San Diego and California, from its coast and mountains to the deserts of Baja.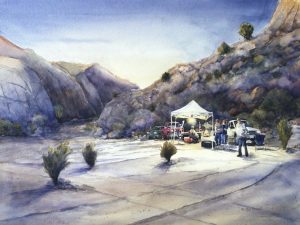 To your right, Mike's "Baja 1000 Matomi Pit" took 2nd place in the San Diego County Fair 2018, for representational landscape in watercolor.
After a forty year career in floor covering and design, Hefner has returned to painting full time. He enjoys the classes, workshops and friendships he has encountered in our local art community.
Currently a member of Foothills Art Association and the San Diego Watercolor Society, Hefner  is also a past president of East County Art Association.
Contact Mike at: (619) 916-7005  or  [email protected]