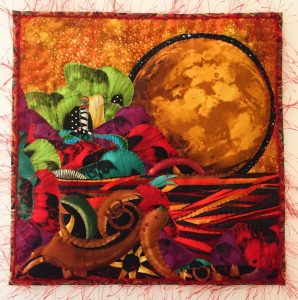 Noreen Ring will be showing her small, intricate and colorful quilts in the Winer family Community Room & Art Gallery, October6-31.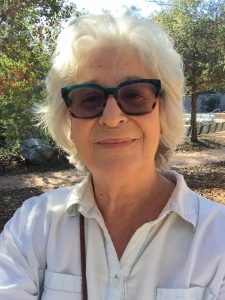 These beautiful small quilts are of her own design, and would make a wonderful wall hanging addition to any home.  Take the time to view their intricate detail. then vote for your favorite. You will have the opportunity to meet Noreen at her artist reception, Saturday, October 15, noon-2 p.m. in our art gallery.  
Noreen gives the following description of her work: "It is my intention to design works that reflect an "other-world" feeling with a sense of universality.  Earth, mountains, rocks, flowers, the sky, the stars, moons – things that we know exist with certainty but aren't sure of the details and how they might fit together somewhere else, on another earthly plane.  When I design it is important for me to consider how comfortable existence would be in these worlds that endlessly reveal themselves.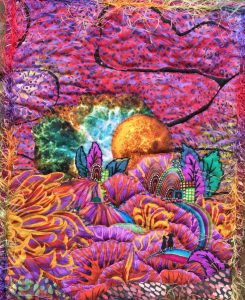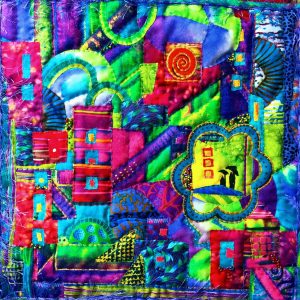 These textile collages are created by selecting bits of 100% commercial or hand dyed cotton fabric.  Each bit of fabric is hand stitched into a quilt "sandwich" (top/batting/backing) using a variety of different threads.  Once the piece is complete it is embellish with beads, crystals and yarns.  The piece is sprayed with a UV protector and framed behind glass or Plexiglas."