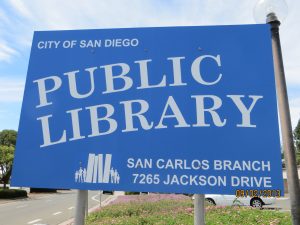 The San Carlos Branch is constantly updating the list of library services they have available for you during COVID-19. Here is the list of what's NEW and how previous services may have changed.
CONTACTLESS PICK-UP SERVICES are available 9:30 am-5:30 pm, Monday-Saturday, You will receive an email with the designated location to retrieve your holds when they are ready. At San Carlos Branch, upon arrival, please call 619-527-3430, stay in your car until the librarian calls you to the pickup table, and please maintain social distancing. Through this service we also offer:
Grab & Go Kids' Reads
take home Craft projects: call 619-527-3430, supply is limited.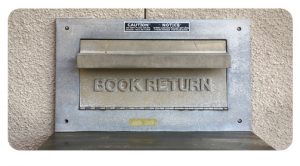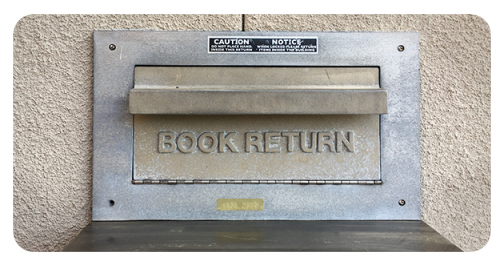 BOOK RETURN DROP BOXES are open 24/7, at all 36 San Diego Public Library locations. DONATED BOOKS are NOT currently being accepted.
SCFOL MINI-Used Book Sales: Tuesdays, 2:30-5:00 p.m., JUNE 8-AUGUST 31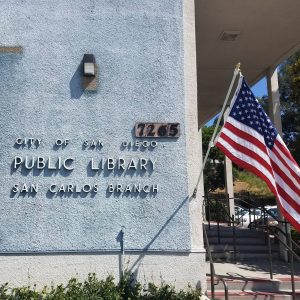 Have you checked out the San Carlos Branch's FACEBOOK page? Keep up to date with SDPL happenings and view new & previous videos from around other Branches and San Carlos offerings of: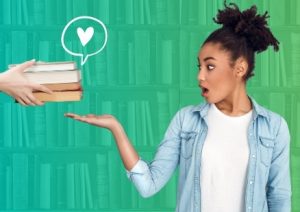 OR ask for help with library services: phone 619-527-3430. A librarian can help you to: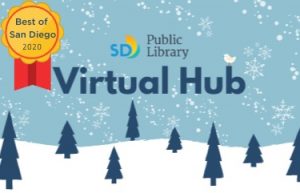 SDPL VIRTUAL HUB: The San Diego Public Library Virtual Hub is a Facebook group where Library Staff and partnering organizations offer daily virtual programs for all ages including: read alouds, crafts & DIY, booktalks, and more! Access to our library buildings is very limited, but the fun never stops in our virtual club. Join and get access to our growing collection of videos and resources.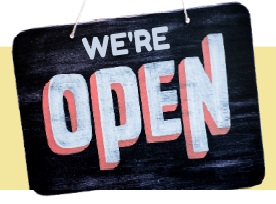 LIMITED IN-PERSON SERVICE: Twelve San Diego Public Library locations are now open for limited In-Person Services. For everyone's safety, browsing is not allowed at this time. Computer usage is limited to one hour.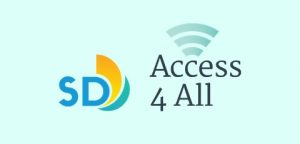 SD Access 4 All helps provide digital access and resources to the community by providing free WiFi and internet access as well as laptop use at select library locations. Patrons can visit any of our participating libraries and use this service available through our outdoor computer labs. We are excited to be able to offer this service to patrons of all ages to access information, complete job searches and for students to utilize as a resource with a reliable internet connection to do their homework. We welcome all members of the community to take advantage of this easy-to-use resource that is available to anyone who needs it.