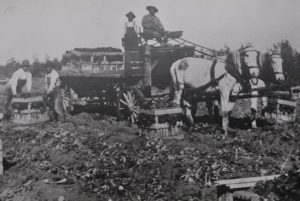 This video presentation is part of the SDPL's Asian American, Pacific Islander Heritage Month celebration, and can be found on the San Carlos Branch Facebook page.  Presented by Kathleen Dang of CCBA San Diego, this video walking tour on May 25 @ 5 p.m. of Downtown San Diego, will provide a brief overview of San Diego's Asian Pacific Islander history. The Gaslamp Quarter and the surrounding areas today is drastically different from what it was in the late 1800s. It once thrived as one of the oldest neighborhoods of color in San Diego. This tour will highlight specific sites of interest with API and BIPOC history. We highly recommend you to find historic sites in your own neighborhood!
Kathleen Dang, Board Secretary of CCBA San Diego, is also a nonprofit professional, youth educator, and community volunteer based in San Diego. She is involved with several cultural, educational, and philanthropic organizations that serve to engage the community in Asian, Asian American, and Pacific Islander focused initiatives including advocacy and cultural awareness. In her role at CCBA San Diego, she supports the operations of the nonprofit organization and the production of the San Diego Chinese New Year Fair, the oldest Lunar New Year celebration in San Diego.
Chinese Consolidated Benevolent Association San Diego (CCBASD) provides charitable and benevolent activities to preserve the culture and traditions of San Diego's Chinese people. We are the stewards of the CCBA Senior Garden, San Diego Lucky Lion Dancers, and the San Diego Chinese New Year Fair.