MARCH 13 @ 10:30: Annual Friends of San Diego Public Library (FSDPL) General Membership Meeting via ZOOM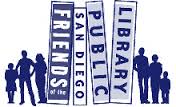 This year, the Annual FSDPL general membership meeting will be held via ZOOM on March 13, from 10:30 – noon.  Members from all SDPL Friends chapters are invited to join in the ZOOM.   We need at least 50 voting members present in order to elect the 2021 FSDL Board of Directors.  
MEETING AGENDA: Featured speaker Library Director Misty Jones, and updates by Foundation CEO Patrick Stewart, Library Shop Manager Scott Ehrig-Burgess, FSDPL President Joan Reese, and Election of FSDPL Board of Directors. Nominees are: returning secretary Isabel Schechter, returning nominee Director Stephen Schmal, and new nominee Directors Carolina Pinheiro, Deanna Ratnikova, and Karina Wong.
The meeting will be particularly informative as Misty's presentation will cover "SDPL — Shifting Service to Meet Needs," and Patrick will discuss the development and progress of the new LIBRARY MASTER PLAN.  Hope to see all of you on March 13 @ 10:30.