OCTOBER 14: The Library Shop Reopens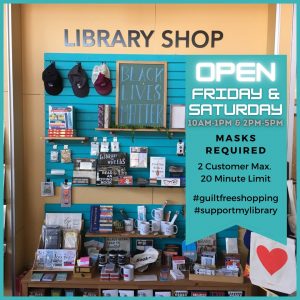 Welcome to the Library Shop's new and ever-changing version of 'normal' and Happy Halloween! The Shop is now open for in-person, socially distanced browsing every Friday and Saturday, from 10:00 am – 1:00 pm & 2:00 pm – 5:00 pm. We're limiting visits to 20 minutes and capacity to two customers at a time or one household/family. And if that doesn't work for you, you can shop our complete inventory 24/7 at our website where we still offer a flat rate of $4.95 shipping and free local delivery! 
BROWSE OUR INVENTORY   We sincerely hope you are safe and healthy and that you've been able to engage with the world in whatever way you've been comfortable.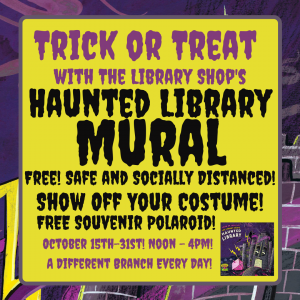 The HAUNTED Library Mural & Halloween Pop-Up Shop will be Haunting a Library Curb Near You: Starting on Thursday, October 15th and running Monday-Saturday, Noon – 4:00 pm, through Halloween, we'll be outside a different Library branch every day with a giant Halloween-themed pop-up mural that kids & their families can pose in front of, inspired by a scene from the amazing picture book She Wanted To Be Haunted by Marcus Ewert and illustrated by Susie Ghahremani! In addition to the chance to take your own photos, we'll provide each family with a free souvenir polaroid (given to you touch-free, straight from the camera!) to remember your visit by! Plus if you tag @libraryshopsd when you post your photos to social media using the hashtag #PicOrTreatSD we'll enter you into a drawing for a $100 Library Shop Gift Card! The Haunted Library Mural is totally free and no reservations are necessary, so get your family's costumes together and drop on by! FULL SCHEDULE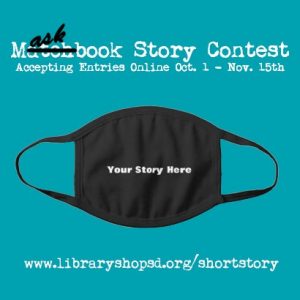 4th Annual MatchMaskbook Story Contest Is Open for Submissions:
Calling all writers! San Diego's shortest (and quirkiest) short story contest just got a little shorter and a little quirkier! The last thing 2020 needs is more matches, so we've re-branded our wildly popular Matchbook Story Contest as a Maskbook Story Contest. It's still just $5 to enter (all proceeds support the San Diego Public Library System) but this year's winning story will be printed on a custom mask in the Library's own Innovation Lab! As in past year's the winning entry receives a $50 Library Shop gift card, publication of your story in the Library Connections newsletter, and this year you'll also get a mask with your story on it. Please limit submissions to 40 words or fewer so that your story is legible from a safe distance! Stories must be submitted online by Nov. 15th. Winners will be announced in December at a live Zoom reading of our best entries!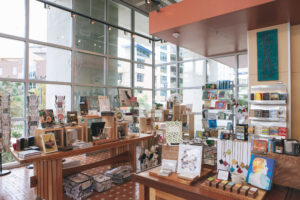 The Library Shop is a non-profit book & gift store located in the courtyard of the Downtown Central Library sponsored by the FSDPL and the SDP Library  Foundation. 
As the plans for Downtown Central Library were being developed, space was set aside for a Library Gift/Book Shop to be located on site. It features a wide selection of well-curated books, gifts, cards, jewelry, and more. Proceeds support all 36 San Diego Public Libraries.  Life-members of the Friends of the Library receive 10% off all purchases. The Library Shop also sponsors monthly special events for youth and adults. To find out more about the Library Shop, their hours of operation, monthly special events, speakers, books and materials, go to  Library Shop  or call the Library Shop at 619-236-5802.