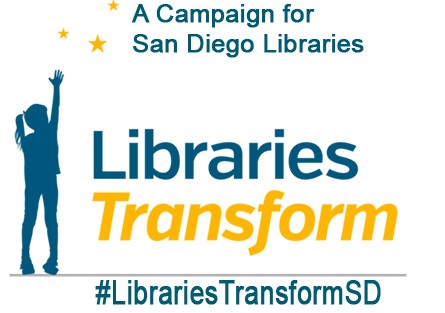 Dear Library Supporter,
Join the LibrariesTransformSD coalition and national library advocates to encourage your Congressional leaders to provide emergency support for libraries through the Library Stabilization Fund Act. The Act was introduced last week in both the U.S. Senate and House of Representatives and would establish a fund to address financial losses and bolster library services. The Fund would provide $1.7 billion distributed to local libraries based on state population and $200 million in competitive grants to strengthen library services to communities affected by COVID-19.
---
Please take action now by sending an email of support to


Urge your Senators and Representative to cosponsor this legislation.
---
Libraries, more than ever, will be relied upon to provide resources for those hit hardest during the pandemic. This funding could help the San Diego Public Library better prepare to safely reopen and to continue providing online programming and services, including:
Help for small businesses and entrepreneurs to re-establish their business and find resources such as loans, and small business assistance,
Resources for parents to assist in online learning for their children, and
Expanded homebound services for those at elevated risk for COVID-19 and continued pick-up Library services.
Thank you for taking 30 seconds to email your Congressmembers to encourage their co-sponsorship of this important Act!
Sincerely,
Patrick Stewart , CEO, San Diego Public Library Foundation
Joan Reese, President , Friends of the San Diego Public Library
Wendy Urushima-Conn, Chair, Board of Library Commissioners