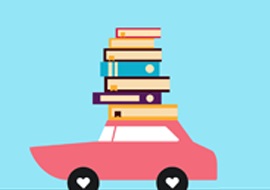 Beginning Monday, July 6, seven additional branches (North University, City Heights, Pacific Beach, Serra Mesa, Skyline Hills, San Carlos and Rancho Peñasquitos) will begin offering curbside pickup of library materials.
· Also beginning JULY 6, the BOOK DROPS at all branch libraries will reopen to accept returns of library materials. The book drops will be open only during the DAYTIME HOURS when staff is on site, MONDAY – FRIDAY, and will be locked at night and on weekends.
·         WiFi will be made available for use outside the buildings at all 18 branches offering curbside services.  ( NOTE: you must bring your own device.) This is an effort to help bridge the "digital divide" for those for whom internet access is not readily available.  Security guards will be used to enforce social distancing and discourage loitering by those not at the Library for WiFi use or book pickup.
· All library programs continue to be canceled through at least the end of August.
· Libraries will will remain CLOSED to the public throughout July.
·         Book Donations will not be accepted at the libraries at this time, and probably not until the Friends are allowed back in the buildings, which most likely won't be until the libraries are open to the public.