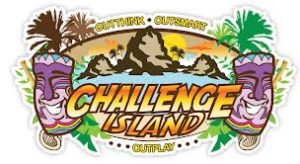 Challenge Island encourages creativity, critical thinking, and social skills while instilling a love of science and engineering. Ages 8-12.  Registration required.  Call (619) 527-3430 to sign up.   
April 8: Captain Underpants Elementary:

  Kids will learn about author/illustrator, Dav Pilkey, and his famous character, Captain Underpants.  They will also discover the power of elasticity and the way it relates to Captain Underpants' power.  They will then use the engineering design process to create an elastic slingshot for use in a Captain-Underpants-themed arcade game.
May 13: Goosebumps Monster Blood:

  Kids will learn about the horror genre by listening to an excerpt from R.L. Stine's Monster Blood book.  Next, they will be introduced to the origins of slime as a toy and will experiment to find out whether mixing two or more substances will result in new substances.  They will then use their understandings of the properties of slime as a polymer and non-Newtonian fluid to create their own Monster Blood slime.