February 28, 2-3 p.m.: Jessica D. Johnson, Abandoned San Diego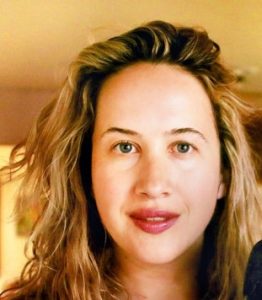 JESSICA D. JOHNSON is a native San Diegan who has lived her entire life in and around "America's Finest City." While she loves San Diego's major attractions, her life's mission has been to explore and describe the unknown and overlooked wonders of the area. Her work reached fruition in her creation of the HiddenSanDiego.net website, which has received millions of unique online visits, and has become an invaluable resource for tourists and local explorers alike. Her work has been featured in local and national print media, radio and television, and she has written extensively on a wide variety of things San Diego. Click on Author Jessica Johnson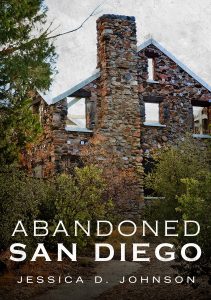 Program Description: "In a thriving modern city like San Diego, little stays the same for long. Today's skyline would be virtually unrecognizable to a time traveler from the 1950s, but when you explore a little, you find fascinating vestiges of the San Diego of our great grandparents tucked away. Abandoned San Diego is a trip back in time, visiting nineteen sites that are in some level of deterioration, but still offer a glimpse into a different period in San Diego's past. Along the way, we will take a richly illustrated journey to old mines, fading towns, burned out ruins, and pioneer cemeteries, among other fascinating places."
---
---
---
March 27, 2-3 p.m.: Beth Branning, The Call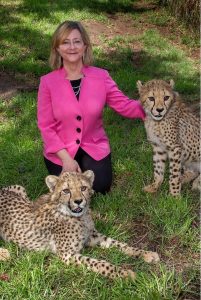 BETH BRANNING is the former chief strategy officer and director of Vision, Innovation, and Strategy (VIS) at San Diego Zoo Global (SDZG). The SDZG strategic planning process she developed received the 2013 Association for Strategic Planning (ASP) Goodman Award—the top international prize for strategic planning innovation and implementation. For 15 years, Beth oversaw major planning efforts not only at San Diego Zoo but also with dozens of collaborators. Many of Beth's "clients" were endangered animals in desperate need of worldwide conservation strategies, including elephants, koalas, giant pandas, and desert tortoises. She helped multi-organizational groups—from the county of San Diego to the continent of Australia—collaborate to save wildlife. Beth also oversaw the strategic planning efforts for many nonprofit associations, including the American Alliance of Museums and the Association of Zoos and Aquariums.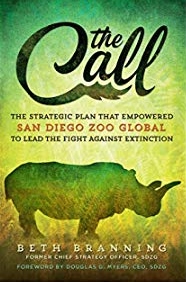 The Call captures the colorful stories and exciting steps involved in San Diego Zoo Global's (SDZG) journey. In the early 2000s, SDZG reached a crossroad: after decades of helping wildlife, the non-profit realized that it needed to evolve into a true conservation organization to ensure a future for plants and animals. The Call is the story of how SDZG developed, launched, and lived its new strategic plan, setting out on a multidecade odyssey to lead the fight against extinction. Through many setbacks and steps forward, this strategic plan eventually led SDZG toward its desired future, providing a road map to achieve a vision that was beyond the imagination of anyone involved at the time. It highlights the value of strategic leadership, calling readers to a new type of planning and execution that will enable them to rally their own supporters, rise above their own barriers to success, and deliver on their own unique mission. Click on Author Beth Branning
---
---
---
April 24-25: San Carlos Garden Club, See, Arts Alive: A Show in Living Color
---
---
---
May 22, 2-3 p.m.: Chris Ernest Nelson
June 26, 2-3 p.m.: David Putnam
July 24, 2-3 p.m.: TBA
August 28, 2-3 p.m.: Elizabeth St. John,
September 25, 2-3 p.m.: Cynthia Robertson, Where You See Forever
---
---
---
October 23: Susan Meissner, The Last Year of the War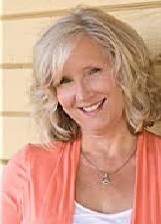 About the Author: Susan Meissner is a USA Today bestselling novelist with more than half a million books in print in fifteen languages. Her novels include The Last Year of the War, a Library Reads and Real Simple top pick, and As Bright as Heaven, starred review from Library Journal. She attended Point Loma Nazarene University and when she's not working on a book, she volunteers for Words Alive, a San Diego non-profit dedicated to helping at-risk youth foster a love for reading and writing.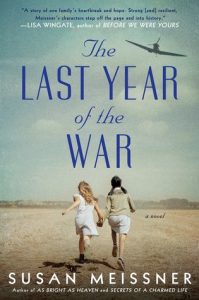 About the Book: Elise Sontag is a typical Iowa fourteen-year-old but then her German immigrant father, a legal U.S. resident for nearly two decades, is suddenly arrested on suspicion of being a Nazi sympathizer. The family is sent to an internment camp in Texas, where, behind the armed guards and barbed wire, Elise feels stripped of her very identity. At the camp she meets fellow internee Mariko Inoue, a Japanese-American teenager from Los Angeles, and their unlikely friendship, even after they are both repatriated, challenges Elise to hold on to the belief the life she knew before the war will again be hers. Here is a little-known WW2 story with great resonance for our own times which speaks to the notion of who we are when who we've always been is called into question.