January 24, 2-3 p.m.: Matt Coyle, Lost Tomorrows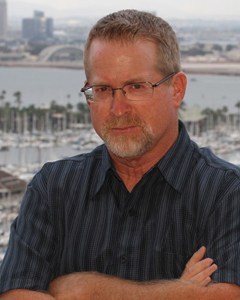 MATT COYLE is the author of the best-selling Rick Cahill crime novels. He knew he wanted to be a crime writer when he was fourteen and his father gave him The Simple Art of Murder by Raymond Chandler. He graduated with a degree in English from University of California at Santa Barbara. His foray into crime fiction was delayed for thirty years as he spent time managing a restaurant, selling golf clubs for various golf companies, and in national sales for a sports licensing company.  Matt lives in San Diego with his yellow Lab, Angus, where he is writing his seventh crime novel. Read more about Coyle at  https://mattcoylebooks.com/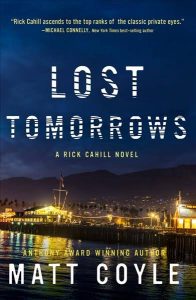 Lost Tomorrows is the 6th of Coyle's Cahill series. "A phone call thrusts Rick Cahill's past and all its tragic consequences into his present. Krista Landingham, his former partner on the Santa Barbara Police Department, is dead. When Rick goes to the funeral in the city where his wife was murdered and where he is seen as guilty for her death in the eyes of the police, he discovers that Krista's death may not have been a tragic accident, but murder. Hired by Krista's sister, Leah, to investigate, Rick follows clues that lead him to the truth, not only about Krista's death, but about the tragedy that ruined his life. "
Matt will also be discussing his journey to publication.  A must hear for struggling authors.
---
---
---
February 28, 2-3 p.m.:  Jessica D. Johnson, Abandoned San Diego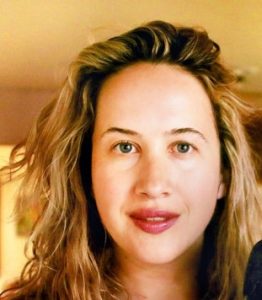 JESSICA D. JOHNSON is a native San Diegan who has lived her entire life in and around "America's Finest City." While she loves San Diego's major attractions, her life's mission has been to explore and describe the unknown and overlooked wonders of the area. Her work reached fruition in her creation of the HiddenSanDiego.net website, which has received millions of unique online visits, and has become an invaluable resource for tourists and local explorers alike. Her work has been featured in local and national print media, radio and television, and she has written extensively on a wide variety of things San Diego.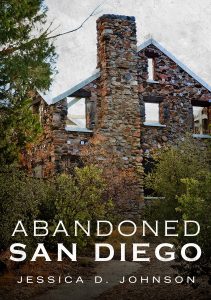 Program Description: "In a thriving modern city like San Diego, little stays the same for long. Today's skyline would be virtually unrecognizable to a time traveler from the 1950s, but when you explore a little, you find fascinating vestiges of the San Diego of our great grandparents tucked away. Abandoned San Diego is a trip back in time, visiting nineteen sites that are in some level of deterioration, but still offer a glimpse into a different period in San Diego's past. Along the way, we will take a richly illustrated journey to old mines, fading towns, burned out ruins, and pioneer cemeteries, among other fascinating places."
---
---
---
March 27, 2-3 p.m.:  Beth Branning, The Call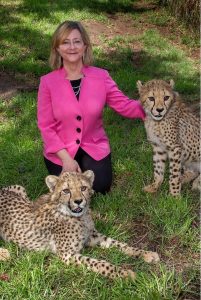 BETH BRANNING is the former chief strategy officer and director of Vision, Innovation, and Strategy (VIS) at San Diego Zoo Global (SDZG). The SDZG strategic planning process she developed received the 2013 Association for Strategic Planning (ASP) Goodman Award—the top international prize for strategic planning innovation and implementation. For 15 years, Beth oversaw major planning efforts not only at San Diego Zoo but also with dozens of collaborators.  Many of Beth's "clients" were endangered animals in desperate   need   of   worldwide   conservation   strategies, including elephants, koalas, giant pandas, and desert tortoises. She helped multi-organizational groups—from the county of San Diego to the continent of Australia—collaborate to save wildlife. Beth also oversaw the strategic planning efforts for many nonprofit associations, including the American Alliance of Museums and the Association of Zoos and Aquariums.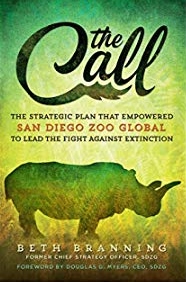 The Call captures the colorful stories and exciting steps involved in San Diego Zoo Global's (SDZG) journey.  In the early 2000s, SDZG reached a crossroad: after decades of helping wildlife, the non-profit realized that it needed to evolve into a true conservation organization to ensure a future for plants and animals. The Call is the story of how SDZG developed, launched, and lived its new strategic plan, setting out on a multidecade odyssey to lead the fight against extinction. Through many setbacks and steps forward, this strategic plan eventually led SDZG toward its desired future, providing a road map to achieve a vision that was beyond the imagination of anyone involved at the time.   It highlights the value of strategic leadership, calling readers to a new type of planning and execution that will enable them to rally their own supporters, rise above their own barriers to success, and deliver on their own unique mission. 
---
---
---
April 24, 2-3 p.m.:  TBA
May 22, 2-3 p.m.: TBA
June 26, 2-3 p.m.: Elizabeth Cobbs, The Tubman Command 
July 24, 2-3 p.m.: Joe Yogerst, 100 Parks 5000 Ideas 
August 28, 2-3 p.m.: TBA
September 25, 2-3 p.m.: Cynthia Robertson, Where You See Forever