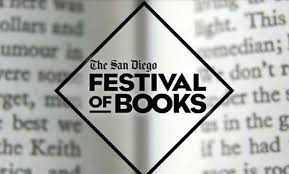 August 24, 10 sm – 5 pm
Liberty Station Pt. Loma
2641 Truxtun Rd.
Celebrate San Diego's vibrant reading community and join thousands of local readers, writers and word lovers at The San Diego Union-Tribune Festival of Books.  The Festival of Books connects San Diego area readers, booksellers, authors and businesses around their common love of the written word. 
Jeff Light, Publisher and Editor-in-Chief of the San Diego Union-Tribune, and Tom Karlo, General Manager of KPBS, will kick off the sessions by introducing us to the "2019 One Book, One San Diego" selections at 10:00 a.m.. Come and meet the Authors headlining the Festival of Books in the Main Hall-Building 177,  from 10:30-3:30.   
For the complete schedule of events, go to Festival of Books .  Admission to the festival and all outdoor activities are free.  Indoor conversations require tickets, available at sdfestivalofbooks.com.