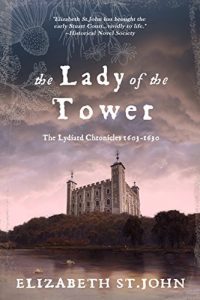 March 22, 2-3 p.m.:  Join us as Elizabeth St. John tells how, while delving into her own family history, she found ancestral memoirs that inspired her to begin writing a saga–the Lydirad Chronicles.
The Story:  The saga's first novel, "The Lady of the Tower," takes place between 1603 and 1630; the second, "By Love Divided, " covers 1630 to 1646. Both novels are set in Lydiard Park, which is the site of St. John's ancestral home, Lydiard House. Other locations include family residences within the Tower of London, Nottingham Castle, and Castle Fonmon in Wales. 
St. John tells us, "More than thirty years ago,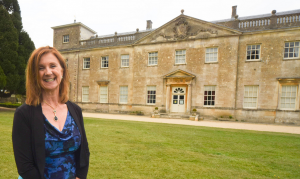 I came across a copy of, "Memoirs of the Life of Colonel Hutchinson" by his wife Lucy Hutchinson.  Contained within is A Fragment, the Life of Lucy Hutchinson, written by herself. The story of her mother, Lucy St.John, served as inspiration for the first novel. Many details of Lucy's life are unknown, but enough are recorded to server as signposts to her journey.  The rest is historical fiction."
The author: St. John's ancestral family dates back to the 10th century, and her focus for this series has been the 16th & 17th centuries. Many of her relatives had connections to the royalty of the day.  Henry VII's grandmother, Margaret Beauchamp, was St John's grandmother, 13 times removed!  Another of the family's royal connections was the Duke of Buckingham, a favorite of King James I.  St. John's ancestor, Barbara St. John, married the Duke's brother.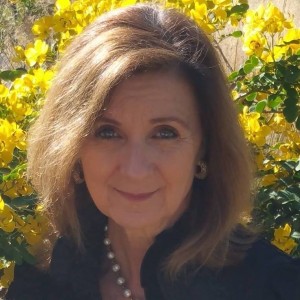 Elizabeth was brought up in England.  She says, "My research has taken me to family memoirs and letters at Nottingham Castle, the British Library, the Tower of London, Yale University and, of course, the family seat of Lydiard Park." Through the Lydirad Chronicles, St John  hopes to pique the readers' interest in their own ancestral histories, as well as gain an appreciation of the times in which they lived.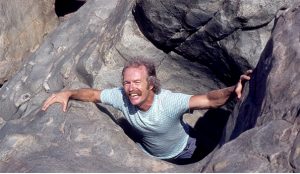 April 26, 2-3 p.m., we are excited to have  Patrick L. Abbott, author of Geology, Mission Trails Park.   
The author: Abbottt is a native San Diegan, and graduate of Herbert Hoover High School.  He earned his M.A. and PhD. degrees in geology at The University of Texas at Austin, and became a well-loved, favorite, and long-time geology professor at San Diego State University.  This book takes us through 126 million years of our park's geological history.  Other books penned by Abbott include, The Rise and Fall of San Diego, and Natural Disasters which was his SDSU course textbook, now in its tenth edition.  All proceeds of "Geology, Mission Trails Park," are donated to the Mission Trails Regional Park Foundation.
Book Description: In the book's preface,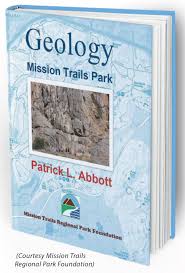 Abbott says, "My research has focused on reading the history stored in sedimentary rocks and fossils.  My love of teaching extends from classrooms to large lecture hall to TV news and TV series such as The Real Gilligan's Island on TBS, Serial Killer Earth on the History Channel, and So You Think You'd Survive on the Weather Channel.  During the past several years, and ongoing, it has been my pleasure to work for Smithsonian Journeys, leading trips on all continents and across all oceans explaining how the Earth works and how it has influenced human history."
  On May 24, 2-3 p.m., we are thrilled to introduce you to a new author, San Diegan Robin (R.D.) Kardon.  Kardon's first novel, Flygirl, has been very well received and became available this January. 
The author:  Kardon is one of SD Magazine's top 5 authors to read in 2019. She is a former corporate and airline pilot with an Airline Transport Pilot certificate and three Captain qualifications. Kardon had a twelve-year flying career that took her all over the world in every type of airplane from small single-engine Cessnas to the Boeing 737. She also holds a B.A. in Journalism and Sociology from NYU and a law degree from American University. A native New Yorker, Robin now lives in San Diego, California with her beloved rescue pets.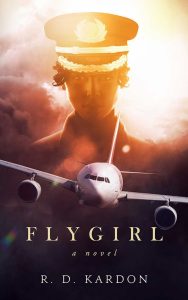 Book description: Flygirl tells the story of "pilot Tris Miles who tries to crack the blue ceiling and become a captain as she confronts harassment, hidden agendas, and her own haunting loss while integrating an all-male, corporate flight department." Kardon feels that female pilots continue to fight the "glass ceiling," and that the "ME Too" movement now allows them to be more vocal about the discrimination they feel.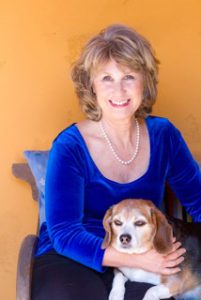 June 28, 2-3 p.m., will see the return of author Jill G. Hall to the San Carlos Branch Library.  The author of The Black Velvet Coat, will introduce us to another of her novels, The Silver Shoes, which once again, connects the lives of two very different women, living in very different eras.
Book Synopsis: "San Francisco artist Anne McFarland has been distracted by a cross-country romance with sexy Sergio and has veered from her creative path. While visiting him in New York, she buys a pair of rhinestone shoes in an antique shop that spark her imagination and lead her on a quest to learn more about the shoes' original owner.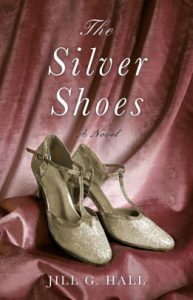 Almost ninety years earlier, Clair Deveraux, a sheltered 1929 New York debutante, tries to reside within the bounds of polite society and please her father. But when she meets Winnie, a carefree Macy's shop girl, Clair is lured into the steamy side of Manhattan—a place filled with speakeasies, flappers, and the beat of "that devil music"—and her true desires explode wide open. Secrets and lies heap up until her father loses everything in the stock market crash and Clair becomes entangled in the burlesque world in an effort to save her family and herself.
Ultimately, both Anne and Clair, attain true fulfillment . . . with some help from their silver shoes."
The author: Jill G. Hall 's debut novel, The Black Velvet Coat, is an International Book Award Finalist for Best New Fiction and an Amazon #1 Bestseller. The Silver Shoes,  was a Warwick's Bookstore Bestseller. August 2016 she was named Author of the Month by Friends of the San Diego Central Library.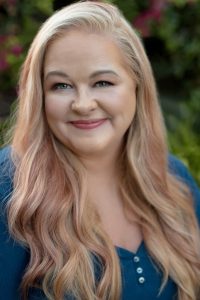 September 27, 2-3 p.m., We look forward to hearing from author Kate Quinn, the New York Times and USA Today bestselling author of historical fiction.
The author: A native of southern California, she attended Boston University where she earned a Bachelor's and Master's degree in Classical Voice. She has written four novels in the Empress of Rome Saga, and two books in the Italian Renaissance, before turning to the 20th century with "The Alice Network" and "The Huntress." All have been translated into multiple languages. Kate and her husband now live in San Diego with two rescue dogs named Caesar and Calpurnia, and her interests include opera, action movies, cooking, and the Boston Red Sox.
Huntress Book synopsis: Bold, reckless Nina Markova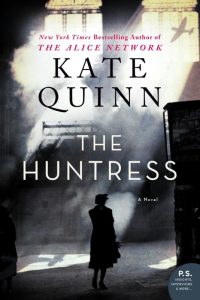 grows up on the icy edge of Soviet Russia, dreaming of flight and fearing nothing. When the tide of war sweeps over her homeland, she gambles everything to join the infamous Night Witches, an all-female night bomber regiment wreaking havoc on Hitler's eastern front. But when she is downed behind enemy lines and thrown across the path of a lethal Nazi murderess known as the Huntress, Nina must use all her wits to survive.
British war correspondent Ian Graham has witnessed the horrors of war from Omaha Beach to the Nuremberg Trials. He abandons journalism after the war to become a Nazi hunter, yet one target eludes him: the Huntress. Fierce, disciplined Ian must join forces with brazen, cocksure Nina, the only witness to escape the Huntress alive. But a shared secret could derail their mission, unless Ian and Nina force themselves to confront it.
Seventeen-year-old Jordan McBride grows up in post WWII Boston, determined despite family opposition to become a photographer. At first delighted when her long-widowed father brings home a fiancée, Jordan grows increasingly disquieted by the soft-spoken German widow who seems to be hiding something. Armed only with her camera and her wits, Jordan delves into her new stepmother's past and slowly realizes there are mysteries buried deep in her family. But Jordan's search for the truth may threaten all she holds dear.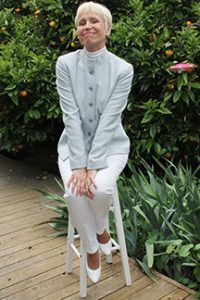 October 25, 2-3 p.m., we are excited to have Elke Ertle return to the San Carlos Branch Library to discuss the  "History of the Rise and Fall of the Berlin Wall".  Her  talk/discussion is in conjunction with the upcoming 30th anniversary of the Fall of the Berlin Wall on November 9, 1989.  Ertle is the author of the autobiography, Walled-In Berlin: A West Berlin Girl;s Journey to Freedom. 
The author:  J. Elke Ertle was born and raised in West Berlin following World War II, a time when the city was the focus of an escalating Cold War between East and West. During the first twenty-one years of her life, she lived with her mother and father in the British sector of the city and was known by her first name, Jutta. In the late 1940s, her family braved the Berlin Blockade, surviving by and large on account of the American-conceived Berlin Airlift. More than a decade later, when Jutta was a teenager, her family endured many hours, days, and weeks of petrifying uncertainty in the wake of the construction of the Berlin Wall. Overnight, the city had been split into two and rumors ran amok. Jutta, along with the rest of the population of West Berlin, feared for her future and her freedom.
Retired from employment in the public sector, Elke now lives in San Diego with Burch, her husband of four decades. She holds a masters degree in Industrial-Organizational Psychology from San Diego State University and a Certificate in Fitness and Exercise Science from the University of California, San Diego. She teaches group exercise classes and enjoys reading, writing, dancing, hiking, tennis, gardening, cooking, and crafts. Elke is a contributing author to "The Real F.M. Urban," published in the Journal of the History of the Behavioral Sciences, and to two anthologies.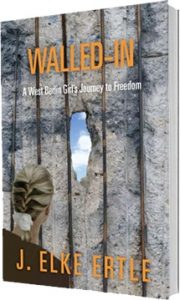 Book Description: In Walled-In: A West Berlin Girl's Journey to Freedom, J. Elke Ertle chronicles the first 21 years of her life growing up in West Berlin during the Cold War. Located one hundred miles from the closest West German border, West Berlin was nothing more than a tiny western island in the middle of a large Communist sea. But by the same token, it also represented the front line of the Cold War divide.Walled-In probes the concepts of freedom vs. conformity, conflict vs. cooperation, domination vs. submission, loyalty vs. betrayal.
These are photos of the Berlin Wall as it was being torn down.