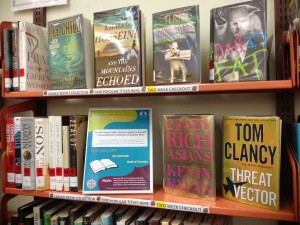 Each month, the San Carlos Branch Library leases newly published books direct from the Publishers.  This special book collection  includes both adult titles and the latest youth titles too. The EXPRESS book collection has RED labels on their spines.
The adult books can be found against the back wall to your immediate right when you enter the library via its main entrance.  The children's collection may be found on the left side of the library directly opposite and facing the circulation desk.
We keep these books only as long as our patrons continue to show an interest in them.  When they cease  to be checked out, they are returned to the Publisher, and replaced with new titles.  We also have leased DVDs (they are a hot item).  They may be found on a rack behind the reserved book rack.
Leased books and DVDs may be checked out for ONLY two weeks with NO holds or renewals.  You need a library card, and will be fined the going rate for over-due books.
All books and materials purchased by our libraries are paid for through "MATCHING FUNDS."  Half of these funds are budgeted for annually as part of the City of San Diego's Budget. The other half of the funds are "MATCHED" by the Friends of the Library through the Library Foundation.  The source for these "MATCHED" funds is revenue raised by the various chapters of the Friends of the San Diego Public Library (FSDPL).  Each branch's book budget is based on the number of patrons the Branch has. How many items patrons check out and the numbers that attend the programs that the branch provides is the basis of the branch's ranking.  The more you use your Branch Library, the better it will server you. CHECK OUT A BOOK TODAY!  The major revenue source for the San Carlos Branch Library is our  monthly USED BOOK SALE.  We thank all of the volunteers who make this sale possible, those of you who donate your books, and those of you who purchase them.  SCFOL memberships and donations are additional revenue sources.