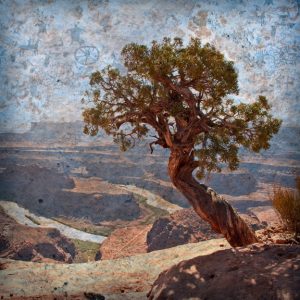 From March 4 – April 4, we are excited to introduce you to the photography of Denise Strahm.  In this show, Strahm is exhibiting her new series, Alternate Treeality, comprised of enchanting and surreal tree-focused photo montages. This is a stark departure from her photographs  depicting the rich texture and colors of aged architecture, for which she is so well known.
Strahm explains, "Trees symbolize a multitude of things, but mainly they represent the many seasons of life.
In my Alternate Treeality series, I take photographs of trees in their natural environment, and utilizing various treatments, textures and photo layering, recreate a strange and new environment that looks completely different from the original. Not much different perhaps than what your new world looks like as you enter a new season of life. These images convey a variety of feelings; the experience will likely be different from one viewer to the next depending on their life circumstances."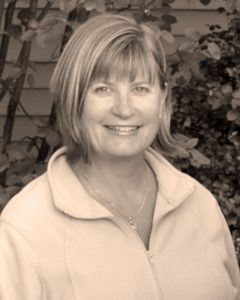 Originally from northern Illinois, Denise has also been a graphic design artist for 30 years. It is in this series and her other montage series' that she gets to marry her love for design and her love of photography into one artwork. Each image has multiple layers and treatments that keep your interest as you see new things each time you look at it.  Meet and discuss this photographic process with Strahm at her Artist Reception which will be held in the San Carlos Branch Library Winer Family Community Room & Art Gallery on March 16, noon-2 p.m.  Refreshments will be served.
You can see more of Denise Strahm's images at the Spanish Village Art Center in Balboa Park, where she has been part of Studio #2 since 2008, or online at Denise Strahm.