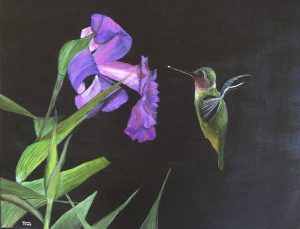 We are so pleased to have Tina Fries-Miller return to the San Carlos branch library with a new selection of her watercolors.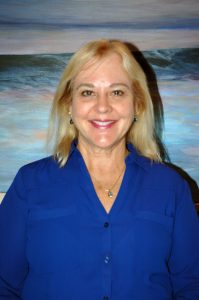 Tina's Artist Reception will be held in the San Carlos branch library's Art Gallery on Saturday, February 16, noon-2 p.m.  Tina is a third generation San Diego Native with a background in Technical Illustration, Graphic Arts, and Web Development  which she acquired working for three major Corporations in San Diego, CA.  She has an AS in Technical Illustration from Cuyamaca College and a BS in Information Systems from the University of Phoenix. She also has designed, developed, and implemented many websites for small businesses in California and Colorado.
After working 30+ years in black & white, specializing in Pen & Ink, Scratchboard, and computer generated graphics, Tina transitioned to color in 2008 with paintings in Acrylic. In 2013, able to start spending more time painting, she expanded her acrylic painting with works in Oil and Pastels and in 2016 she began painting with watercolor. She has attended UCSD for painting as well as taking classes from prominent artists at the La Jolla Athenaeum School of Art, San Diego Watercolor Society, and Foothills Adult Education Center.

Recognition & Awards
Tina is an award-winning artist with awards in Fine Art Show at the San Diego Fair, Plein Air Show at the San Diego Watercolor Society, Heart of Mt. Helix Art Show, and the Wildlife in Art show at Porter Hall in La Mesa.
"Follow the Leader," (above) won 1st Place in the 2017 Wildlife in Art Show.  "Hummingbird," won Honorable Mention at San Diego Fair.