The Library Shop is a non-profit book & gift store located in the courtyard of the Downtown Central Library sponsored by the Friends of the San Diego Public Library and the San Diego Public Library  Foundation.  
Where's Waldo Wrap-Up:  Thanks again to everyone who visited any of the 36 branches of the San Diego Public Library during the month of July to find Waldo!  170 of you managed to find Waldo at all 36- including three ladies who rode their bikes to every branch- and hundreds more participated with a total of 11,000 buttons given away!  And remember, all 11,000 were locally designed and made by volunteer Library & Foundation staff including the last 3,000 at the front counter of the Shop in a futile attempt to keep up with the overwhelming demand.  A seriousthank you to everyone who participated! We can't wait to see how the program grows in 2019.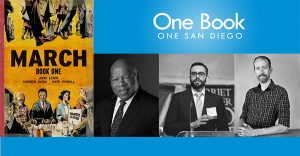 Friday September 21st, 7pm @ The Civic Theater: One Book One San Diego Launch Event & Book Signing with Congressman John Lewis.  The Library Shop is proud to be the official bookseller for this year's One Book One San Diego Launch Event Friday September 21st, 7:00pm @ The Civic Theater featuring the authors of the 2018 One Book selection, MARCH, Congressman and Civil Rights Icon John Lewis, illustrator Nate Powell and writer Andrew Aydin.  Due to the large demand this year's book signing will be limited to the first 250 people who purchase a copy of MARCH (or any MARCH trilogy book) from The Library Shop.  To learn more about the event and order your copy now to reserve your spot in the signing line please visit: EVENT TICKETS or stop by the Library Shop.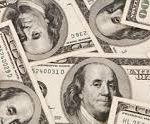 SPEND MONEY, GET STORE CREDITS
Your purchases at the Library Shop at the downtown Central Library have always helped support the 36 branches of the San Diego Public Library System, but now they can help support you as well!  Simply join our Frequent Buyer's Club next time you're in and you'll receive a $20 Store Credit for every $200 you spend.  It's free, it's easy, there's no paperwork & we keep track so all you have to do is shop.  Stop by for full details!
As the plans for Downtown Central Library were being developed, space was set aside for a Library Gift/Book Shop to be located on site. It features a wide selection of well-curated books, gifts, cards, jewelry, and more. Proceeds support all 36 San Diego Public Libraries. Come see why San Diego Magazine named it the best literati boutique in San Diego. Life-members of the Friends of the Library receive 10% off all purchases. The Library Shop also sponsors monthly special events for adults like trivia games, adult spelling bees, and planting succulents workshops. To find out more about the Library Shop, their hours of operation, monthly special events, speakers, books and materials, go to  Library Shop  or call the Library Shop at 619-236-5802.