June 15-August 15: SUMMER READING PROGRAM: "Read For the Win"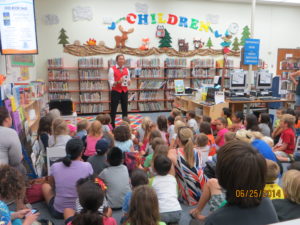 In honor of this Summer's Olympians, the San Diego Public Library has chosen, "Read For the Win" as the theme for its 2016 Summer Reading Program.  There will be prizes along the way for those who read a designated number of books or pages. 2016 SRP prizes is a list of available youth prizes (while supplies last).  Our eligible adult readers may choose free books from a designated "free book rack" or earn a $5 voucher for purchasing books at our Used Book Sales.  Patrons of all ages must be signed up on the library's website in order to earn prizes. Sign up for the Summer Reading Program online or at the library starting June 15. A link to the program is accessible from the Library's home page, San Diego Public Library. After reading 10 books or 10 hours, patrons are eligible to pick up their prizes. The last day to log your reading progress is August 15; prizes may be picked up through August 31.
As part of the Summer Reading Program, every Wednesday from June 22 through August 17 at 2:30-3:15 or 3:30 (program dependent) there will be a special family friendly program.  The summer fun started with Amazing Dana, the Magician, on June 22. Over 100 kids & adults were amazed by his magical prowess  and laughed at the comedy of the Amazing Dana.  Click on READ for the WIN for list of all of our summer Wednesday programs.  Click on Children's Events Summer 2016   to see the list of all of our YOUTH Summer activities.