NOVEMBER 5: Farewell to Managing Librarian, Rita Glick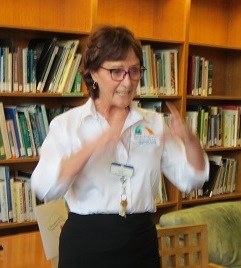 On November 5, from 11:00 to 2:30, we invite the San Carlos Branch Library patrons to stop by the library and bid Rita a fond farewell, while enjoying a piece of cake in her honor.  Our beloved Managing Librarian, Rita Glick, will be retiring on November 6, 2015.  She and her husband Bill are relocating to the mid-west to be closer to family, especially their grandchildren.
Rita first joined the San Carlos Branch as Managing Librarian, on August 7, 2010 following the retirement of Jack Albrecht.  However, until August of 2011, we rarely saw her as she was rotated throughout other branches. She has been a delight to work with, keeping all of us on our toes with fresh and exciting new ideas.  Under her tutelage, the SCFOL financed the addition of many new programs for both adults and children, redecorated the children's area and the Winer Family Community Room & Art Gallery, replaced the library's tables and chairs, and added Gideon to our volunteer greeters. Her support of our Book Sales and involvement with the Branch's 2014-40th Anniversary Celebration year (yarn bombing, 40th Gala, Family fun Day, craft sales) will never be forgotten. Lastly, we thank Rita for helping everyone survive the ADA reconstruction period and the serious lack of parking.
Sure, we will survive without her, but her memory will never fade.  Thank You, Rita for your leadership and friendship; for your support in helping us "Honor the Past….and Build for the Future."  You will be missed.