Friday, April 27, 2-3 p.m., "The Forgotten Flu": Author Susan Meissner, will discuss her new novel, As Bright As Heaven.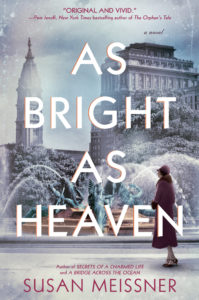 In 1918, Philadelphia was a city teeming with promise. Even as its young men went off to fight in the Great War, there were opportunities for a fresh start on its cobblestone streets. Into this bustling town, came Pauline Bright and her husband, filled with hope that they could now give their three daughters–Evelyn, Maggie, and Willa–a chance at a better life. But just months after they arrive, the Spanish Flu (the pandemic killed over 50 million world-wide) reaches the shores of America. As the pandemic claims more than twelve thousand victims in their adopted city, they find their lives left with a world that looks nothing like the one they knew. But even as they lose loved ones, they take in a baby orphaned by the disease who becomes their single source of hope.  Click on Author Susan Meissner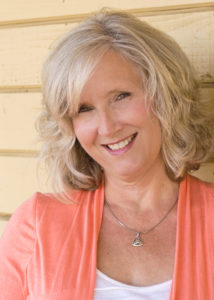 Susan Meissner is a multi-published author, speaker and writing workshop leader with a background in community journalism. Her novels include A Bridge Across the Ocean, Secrets of a Charmed Life (a 2015 Goodreads Choice award finalist) and A Fall of Marigolds, named to Booklist's Top Ten women's fiction titles for 2014. She is also RITA finalist and Christy Award and Carol Award winner. A California native, she attended Point Loma Nazarene University. Susan is a pastor's wife and a mother of four young adults. When she's not working on a novel, Susan writes small group curriculum for her San Diego church. She is also a writing workshop volunteer for Words Alive, a San Diego non-profit dedicated to helping at-risk youth foster a love for reading and writing. Visit Susan at her website: susanmeissner.com on Twitter at @SusanMeissner or at www.facebook.com/susan.meissner
 Friday, May 25, 2-3 pm: Author, David Putman, The Innocents.  This is the 5th book in the Bruno Johnson series, and the first prequel of a planned four.   "Bruno Johnson, a newly minted LA County Sheriff Violent Crimes detective, gets the worst assi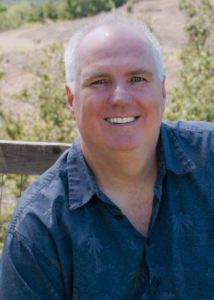 gnment possible—infiltrate a sheriff's narcotics team that may be involved in murder for hire. He must gain their trust and be brought into the scheme. If he succeeds, he will have to arrest and testify against his fellow deputies—if he lives that long.  To make matters worse, before Bruno leaves home on the first day of this assignment, he answers the door to find an ex-girlfriend. Without explanation, she hands him a baby girl only weeks old. The child is his. Stunned and terrified, he now faces immediate fatherhood as well as the traitor-like charge to take down his colleagues.
Juggling his complex home life, Bruno tackles his assignment to discover that no one is who they seem to be and that his boss, Lieutenant Wicks, might be involved. His mission is further complicated when an attractive female deputy, recently transferred from Public Affairs, is also put on the case. She has no street experience, and Bruno carries the extra burden of watching her back—a tough assignment made tougher by personal attraction.  As Bruno gets deeper and deeper into the corruption, he doesn't know whom to trust, and in the end, confides in the wrong person."
"During his law enforcement career, David Putnam worked primarily in California on teams for Patrol, Investigations, SWAT, Narcotics, Violent Crimes, Criminal Intelligence, Internal Affairs, Detective Bureau and as child protective services coordinator. He rounded out his law enforcement career with a few years in the Hawaiian Islands as a Special Agent-part of a real-life "Hawaii-50? team. He's now retired from law enforcement and spends his time growing organic California avocados and writing, with his wife Mary and their dogs." See May Author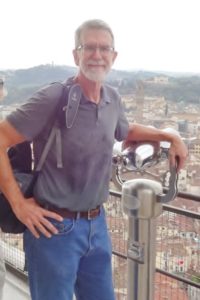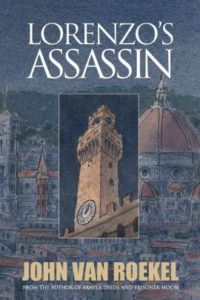 Friday, June 22, 2-3 pm:  A novel by John Van Roekel, Lorenzo's Assassin. "Murder Lorenzo the Magnificent?  A devout Catholic soldier struggles to obey his Pope even after he has been befriended by Lorenzo; A beautiful girl loses the love of Lorenzo's handsome brother and resorts to witchcraft to regain it;  A Greek scholar seeks revenge for the death of his lover twenty-five years earlier.  From the unfinished Sistine Chapel, to the altar beneath Brunelleschi's dome, to the fire tunnels under the great Theodosian Wall in besieged Constantinople, Lorenzo's Assassin tells three intertwined stories of love, vengeance and forgiveness."
We are pleased to have FSDCL "Author to Watch," John Van Roekel speak about his  novel, Lorenzo's Assassin, and others authored by John which include Prisoner Moon, the story of one of over 400,000 German prisoners of war brought to an American prisoner of war  camp during World War II. John adapted Prisoner Moon into a feature-length movie screenplay. The script has received a number of minor awards and won the Feature Screenplay competition at the 2016 Paris Independent Film Festival. Van Roekel also authored the novel Braver Deeds, and the short film Runner, which Patchwork Visions, an independent film group based in San Diego, has selected for production in the summer of 2018. A retired software engineer, John and his wife reside in San Diego. Learn more about John Van Roekel on his website, John Van Roekel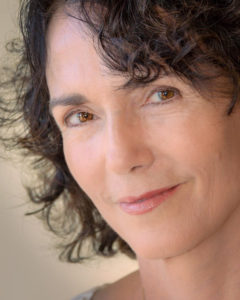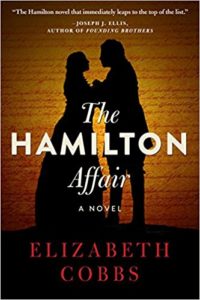 Friday, July 22, 2-3 pm: Author Elizabeth Cobbs, The Hamilton Affair.  "Set against the dramatic backdrop of the American Revolution, and featuring a cast of legendary characters, best selling book The Hamilton Affair tells the sweeping, tumultuous, true story of Alexander Hamilton and Elizabeth Schuyler, from passionate and tender beginnings to his fateful duel on the banks of the Hudson River."
With an American History PhD from Stanford University, Elizabeth Cobbs books have won  numerous awards.  "She now holds the Melbern Glasscock Chair at Texas A&M University and a Research Fellowship at Stanford University's Hoover Institution. Her books have won four literary prizes, two for American history and two for fiction. Elizabeth has been a Fulbright scholar in Ireland and a Fellow at the Woodrow Wilson International Center for Scholars in Washington, D.C. She has served on the Historical Advisory Committee of the U.S. State Department and on the jury for the Pulitzer Prize in History." Learn more about Elizabeth Cobbs and her career on her website, Elizabeth Cobbs.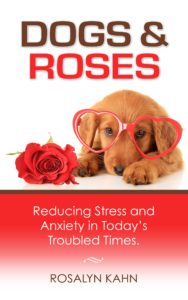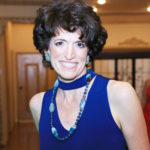 Friday, August 24, 2-3 pm:  Prof. Rosalyn Kahn, Dogs & Roses: Reducing Stress and Anxiety in today's Troubled Times.  Today's life is filled with honking horns, streaming lines in the grocery store and city streets. If you're looking for a way to break up your stress it can be as simple as picking up the latest book by Rosalyn Kahn who's published her second book, Dog and Roses: How to Reduce Stress and Anxiety in Today's Troubled Times. The book came out of a depression which the author faced.  Her answer to combat it was her passion for dogs and roses; both offer huge benefits in healing. The book is an inspirational book, containing photographs, short stories and helpful resources, on both dogs and roses. Proceeds from the book are being donated to help our veterans. Her goal is to create a foster care program where veterans who return to serve have an option to put their dog in a foster home versus terminating the dog' life. Books are available on Amazon.
Rosalyn Kahn is a College Professor-Public Speaking Instructor at Los Angeles City College, an Author, International Motivational Speaker, and Speech Coach.  Kahn's first book, Random Acts of Kindness are Changing the World, published by  Solutions Press, is available on Amazon. Learn more about her at  RosalynKahn.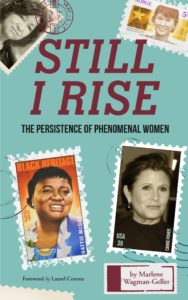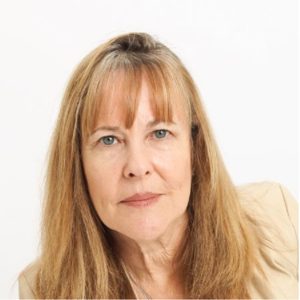 Friday, September 26, 2-3 pm:  author Marlene Wagman-Geller, Still I Rise: The Persistence of Phenomenal Women. We are pleased to have Marlene Wagman-Geller return for a third time to the San Carlos Branch Library to discuss her latest book. In it, Marlene  delves into the lives and actions of the countless women, some legendary and others lesser known, who have made a difference in the world and been vital to the shaping of history. The book celebrates a unique collection of women who, despite diversity and great odds, chose to take their destiny and fortune into their own hands.  In doing so, their indomitable perseverance provides inspiration and strength for women of the present, and those to come.  
Celebrate girl power! Women leaders in history celebrated in this book include:

* Madame C. J. Walker: first female American millionaire
* Aung San Suu Kyi: Burma's first lady of freedom
* Betty Shabazz: civil rights activist
* Nellie Sachs: Holocaust survivor and Nobel Prize recipient
* Selma Lagerlof: first woman Nobel Laureate
* Fannie Lou Hamer: American voting rights activist
* Bessie Coleman: first African-American female pilot
* Wilma Randolph: first woman to win three gold medals
* Sonia Sotomayor: first Hispanic Supreme Court justice
* Wangari Maathai: Nobel Prize winner
* Winnifred Mandela: freedom fighter
* Lois Wilson: founder of Al-Anon
Marlene Wagman-Geller received her B.A. from York University and her teaching credentials from the University of Toronto and San Diego State University. She currently teaches high school English in National City, California. Her other books include, BEHIND EVERY GREAT MAN:Forgotten Women Behind the World's Famous and Infamous, AND THE REST IS HISTORY! The Famous (and Infamous) First Meetings of the World's Most Passionate Couples, EUREKA! The Surprising Stories Behind the Ideas That Shaped the World,  and ONCE AGAIN TO ZELDA: The Stories Behind Literature's Most Intriguing Dedications.  Click to learn more about Marlene Wagman-Geller
Friday, October 26, 2-3 pm:  TBA

Friday, November 23, 2-3 pm: TBA