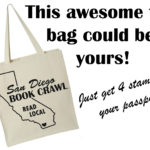 The Second Annual San Diego Bookstore Crawl
The Book Crawl is back with a vengeance! We're joining forces with not one, not two, but EIGHT other awesome independent bookstores in San Diego to celebrate IBD 2018. Here's how it works:
1. Pick up an official SD Bookstore Crawl Passport at any participating store: UC San Diego Bookstore, Warwick's Books, Mysterious Galaxy, La Playa Books, Bluestocking Books, Verbatim Books, The Book Catapult,Bay Books, or right here at the Library Shop.
2. Collect passport stamps by making any purchase from each store Saturday, Sunday, or Monday April 28th-30th for a chance to win some fabulous prizes!
4 STAMPS Gets you a limited edition SD Book Crawl tote bag (while supplies last).
5 – 8 STAMPS Earns you 1 raffle ticket for each stamp after the 4th to be entered into the Silver Tier Drawing: a curated gift basket from one of the nine rad bookstores worth $50 in goodies.
ALL 9 STAMPS Means you are officially a book-loving champ!!! Complete your passport to be entered into the Gold Tier Drawing:  $225 worth of gift certificates from all nine shops!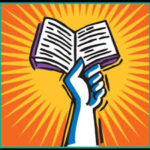 INDEPENDENT BOOKSTORE DAY 2018 @ the Library Shop
Independent Bookstore Day is a one-day national party that takes place in indie bookstores across the country on the last Saturday in April. Every store is unique and every celebration is special. We'll have some great deals and promotions going on all day, and of course, the San Diego Bookstore Crawl! We're giving away Advance Readers Copies of many soon to be or recently published books with any purchase & a free San Diego Public Library Mug to anyone spending over $20. While supplies last, we will also have some exclusive IBD items–only available in brick & mortar indies!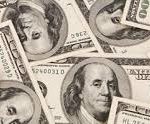 SPEND MONEY, GET STORE CREDITS
Your purchases at the Library Shop at the downtown Central Library have always helped support the 36 branches of the San Diego Public Library System, but now they can help support you as well!  Simply join our Frequent Buyer's Club next time you're in and you'll receive a $20 Store Credit for every $200 you spend.  It's free, it's easy, there's no paperwork & we keep track so all you have to do is shop.  Stop by for full details!
The Library Shop is a non-profit book & gift store located in the courtyard of the Downtown Central Library sponsored by the Friends of the Public Library and the San Diego Public Library Foundation. To find out more about the Library Shop, their hours of operation, monthly special events, speakers, books and materials, go to  Library Shop  or call the Library Shop at 619-236-5802.
As the plans for Downtown Central Library were being developed, space was set aside for a Library Gift/Book Shop to be located on site. It features a wide selection of well-curated books, gifts, cards, jewelry, and more. Proceeds support all 36 San Diego Public Libraries. Come see why San Diego Magazine named it the best literati boutique in San Diego. Life-members of the Friends of the Library receive 10% off all purchases. The Library Shop also sponsors monthly special events for adults like trivia games, adult spelling bees, and planting succulents workshops. Call them for more information.