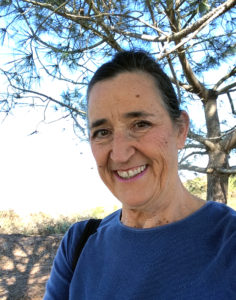 We are pleased to have Julianne Ricksecker as our featured artist in March. Ricksecker has been a printmaker exhibiting regularly in San Diego for nearly 40 years. While enjoying refreshments at the March 17 Artist Reception in Ricksecker's honor, you will have the opportunity to discuss some of her unique techniques.  While she also works in pastel and watercolor, she is best known for her work in various techniques of original printmaking. She works most frequently in á la poupée color etching.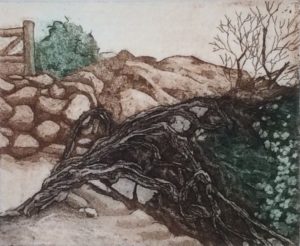 Julianne's color etching process renders sumptuous color with unusual depth and richness for metal plate printmaking. Another favorite technique is monotype, or one of a kind prints. She has developed a monotype technique, using water-soluble oil-based paint on plexiglass to render intriguing one-of-a-kind "painterly prints," transferred to paper on the etching press or by rubbing the back of the paper with a wooden spoon.
Ricksecker loves rendering the landscape. Her art has taken her to Zion, Yosemite, and Glacier National Parks as well as California's  Big Sur, the Cuyamacas, Torrey Pines, and the Anza Borrego Desert.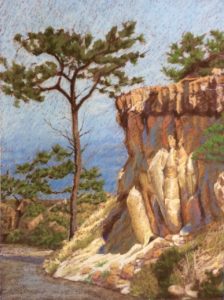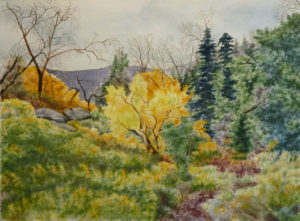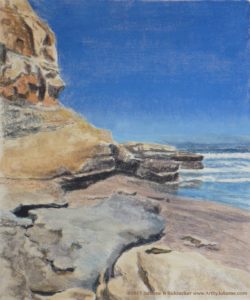 Born and raised in Pittsburgh, Pennsylvania, Julianne Ricksecker lived in New Mexico and Rhode Island, Rouen, France and Yokosuka, Japan before settling in San Diego. She studied at the University of Pittsburgh, Universite de Rouen, the University of New Mexico, and the San Diego Acadamy of Fine Arts. Julianne has exhibited in local, regional, national and international exhibitions. She has won numerous awards for her etchings and her pastels including 2nd place at the 8th Biennial International Miniature Print Exhibition at the Center for Contemporary Printmaking. In 2017, her work has been included in the 3rd Global Print Exhibition in Douro, Portugal, the Miniprint de Cadaqués, in Barcelona, Spain, and "One Foot in the River" at St. Mary's University of Minnesota in Winona, MN, as well as numerous group exhibitions in San Diego, CA. She is a member of the San Diego Museum of Art Artists Guild, the Pastel Society of San Diego, Allied Artists Association of San Diego, the Del Mar Art Center Gallery and ADOGI. You can view her work at the Del Mar Art Center Gallery in the Del Mar Plaza, the SmartSpace Gallery at 4455 Murphy Canyon Road in San Diego, the La Jolla Community Center at 6811 La Jolla Blvd., and other venues. Sign up for her personal newsletter to receive information about new work and upcoming exhibits at www.artbyjulianne.com.