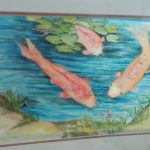 We are pleased to have Ruth Benjamin's art return to the San Carlos Branch Library from June 5-July 5.  She will be showing a selection of water color paintings using a variety of techniques.  A reception in her honor is scheduled for Saturday, June 16, noon-2 p.m., in the branch's Winer Family Community Room & Art Gallery.  Refreshments will be served.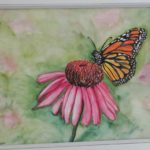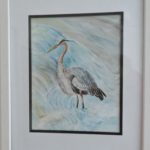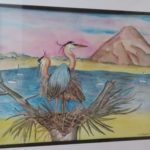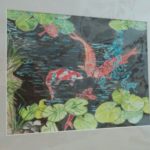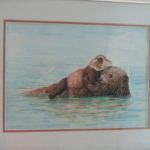 Since her retirement from teaching special needs children and adults, Ruth, a natural artsy-crafty person, has studied the Oriental art technique of Sumi-e painting with Takashi Igitchi, and then with Lucy Wang in Balboa Park's Spanish village.  Recently, Ruth has been experimenting in using a new water color technique to express her concerns for the complexities of current social and political events that affect civilization.
Ruth's paintings include many of the beauties of nature: aquatic birds, mammals, and fish as well as lovely botanical and landscapes scenes. Take a few moments out of your busy day to enjoy a quiet, relaxing viewing of Ruth's works. She and her husband are San Carlos residents who enjoy much of their spare time together with friends at the College Avenue Senior Center.