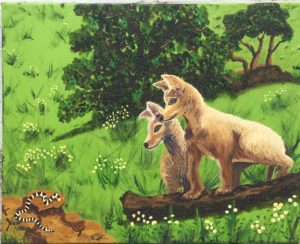 Native Californian, Zandy Gilmaher, paints with rich oil paint, fluid watercolors and bold ink. "I've always had an artistic view of my world, often with a bit of whimsy. I was delighted to begin formally developing my art pieces in 2003."
After retiring, Zandy moved to San Diego and earned a BA in Studio Arts from SDSU.  She continues to participate in local art classes "just for the challenge of creating art." Zandy's art has been displayed in OASIS exhibits, California Galleries and Coffee Shops. She created a large mural on the outside wall of the local Timekeepers Clock Shop, depicting a variety of Nursery Rhyme clocks, titled "Time Flies."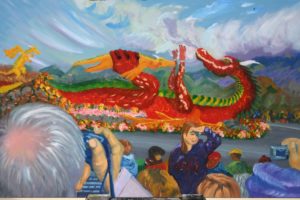 This show of oils, "Earth, Air, Fire," includes the "Dragon Series," which was inspired by the South Pasadena Float in the 2005 Rose Bowl Parade.  In this painting of the float, Zandy's portrait is in the audience wearing her alma mater SDSU sweatshirt.
Also in this series is "Psychedelic: To Show The Soul," which was selected by jury for a North Hollywood Gallery show in March 2017.
The "Dance of Life Series" depicts the interdependence of Owls, Trees and Rabbits and Zandy is asking, "Will You Let It Disappear?" Also included in the show are the five panels of the "California Spring Series" which includes "Mallard Ducks," that celebrate spring in the foothills of Southern California.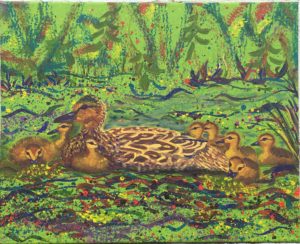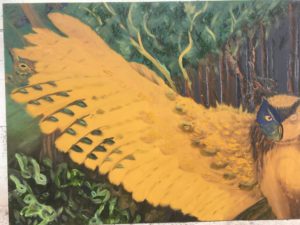 Zandy developed a love of Southern California flora and fauna during her childhood. This is reflected in her choice of subject matter, which are primarily landscapes. She is currently a paid volunteer at the Cuyamaca Preschool Garden as part of the San Diego County Intergenerational Garden Project, and an active member of Foothills Art Association and Gallery in La Mesa, Ca.  Click on FEBRUARY Artist