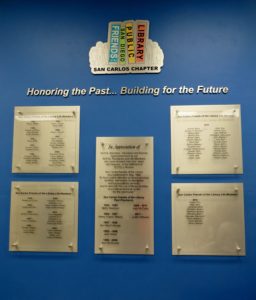 October 23, 2017
Dear SCFOL Life Member,
As a 2017 Life Member of San Carlos Friends of the Library we wish to extend to you a special invitation to attend the Annual General Membership Meeting of SCFOL to be held on Wednesday, November 15, 2017, 4 to 5:30 p.m., in the Winer Family Community Room and Art Gallery. Refreshments will be served.
The agenda will include the unveiling of the 2017 Life Members' Honor Wall plaque. Ann McDonald, Past President of both SCFOL and FSDPL, and currently serving as a Library Foundation Trustee Member will be the guest speaker, and help us sort out the relationships between the Library, the Friends, and the Foundation.
Also on the agenda will be the election of the 2018 San Carlos Friends of the Library Board of Directors. As a Member, you will have the opportunity to take part in this voting process. Below is the nominated Slate for the 2018 Board of Directors. We would also like to reaffirm that you are always welcome to attend our monthly Board of Directors meetings which are held on the 3rd Wednesday of every month at 4 o'clock in the Library's Community Room. We hope to see you there.
Sincerely,
Joan Hayes, President
San Carlos Friends of the Library
Officers and Board of Directors Slate for 2018
SAN CARLOS FRIENDS OF THE LIBRARY
Annual General Membership Meeting: November 15, 2017, 4:00 pm
Position: Nominee
Chairman/President: Joan Hayes
Secretary: Evie McGhee
Treasurer: Jerry Hotz
Members At Large:
Ruth Coleman
Barbara Dennis
Sue Hotz
Roberta Irwin
Ron McFee