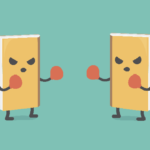 Battle of the Book Characters
Harry Potter defeated Voldemort, but he never had to face Captain Underpants; or Junie B. Jones, for that matter.  See what happens when your favorite book characters face off!  We're down to the final TWO!
Here's how it works:  Through a series of votes, we will narrow a list of sixteen book characters to one grand champion.  Visit the library throughout the summer to check out books featuring these popular characters, and then vote for your favorite!